VIDEO & PHOTO: The Story Behind Lady Gaga's Red Vest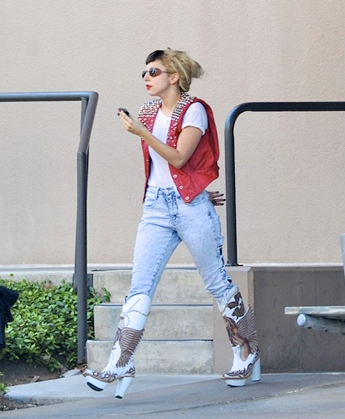 On Saturday, RadarOnline.com published a photo of Lady Gaga getting into the spirit of things in Texas by wearing denim jeans and hand-made boots. Now we know the incredible story behind the vest she was also sporting the afternoon before her Austin show.
Gaga's striking red vest was made by one of her biggest fans, Christopher Roa, a Sacramento make-up artist and painter, who goes by the name Mr. Make Up.
Article continues below advertisement
He took his own 1980s vintage leather vest and applied dozens of studs by hand. He painted on a triangle representing the LGBT community and Gaga's favorite symbol, a unicorn, reported The Sacramento Bee.
Roa then went to Gaga's March 23 show in Sacramento, and waited for an opportunity to toss the vest on stage as a birthday present for his hero.
She not only picked it up but the singer wore it through several more songs!