Family Sues Staples Center Owners Over Death Of Toddler At Lakers Game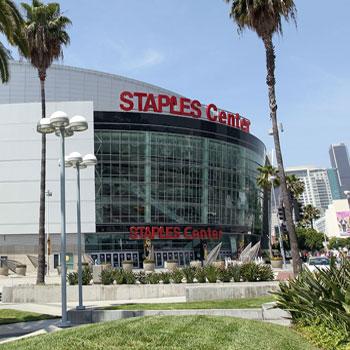 The family of a two-year-old boy who plunged to his death during a Los Angeles Lakers basketball game is suing the owners of the Staples Center where the star-studded team plays, RadarOnline.com has learned.
The lawsuit filed on Tuesday at the Los Angeles Superior Court claims that Anschutz Entertainment Group (AEG) and L.A. Arena Co. failed to warn fans of the dangerous design of the luxury suites in the downtown L.A. stadium. The filing alleges wrongful death and negligence and the family is seeking unspecified damages, along with an injunction demanding taller barriers in the sky boxes at the sports center.
Article continues below advertisement
The toddler, Lucas Tang, suffered massive head injuries after slipping from a third level luxury box and landing in between the seats 30 to 50 feet below, reports the Washington Post, just minutes after the end of a Lakers victory over the Golden State Warriors on November 20, 2010.
Tang later died in hospital and his death was determined as an accident.
The guard rails at the 19,000 capacity stadium are in compliance with safety codes, claimed city officials. They're required to be at least 26 inches high in front of the seats.
Lakers basketball games are always a hot spot for celebrity sightings with Jack Nicholson, Leonardo DiCaprio and David Beckham among some of the Hollywood stars who are a fixture watching Kobe Bryant and the rest of his teammates play. Kim Kardashian and Halle Berry's ex-boyfriend, Gabriel Aubrey, were reportedly in attendance on the night of Tang's death.