Exclusive
EXCLUSIVE: Botox Mom Could Face Criminal Charges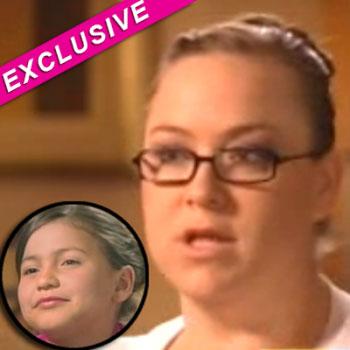 The mom who hit the headlines by claiming on national television that she injected her eight year old daughter with Botox could face criminal charges, a source has exclusively told RadarOnline.com.
Viewers were shocked when Sheena Upton appeared on ABC's Good Morning America with her daughter, Britney, using the fake name of Kerry Campbell, saying that she gave the child Botox to help with her beauty pageant career, but admitted last week to making the entire thing up.
Article continues below advertisement
Now RadarOnline.com can exclusively reveal that the scandalous mom's bogus Botox story could take her from the TV studio to the courtroom.
Upton is "likely looking at a felony or misdemeanor charge of child endangerment or child abuse," revealed the source. "In this case it would fall under mental suffering because of what Sheena put her daughter through, having her appear on camera and lying about being injected with Botox."
The fact that the former jailbird mom, who has previously served prison time in connection to three separate driving violations, caused the outrage on national television will not go in her favor.
"That is a great deal of trauma and suffering to put a little girl through, especially since it appears that Sheena not only did this for money, but because she wants to become famous. Using her daughter to become famous by lying, well, that under California law is child abuse," the source told RadarOnline.com.
Article continues below advertisement
The Los Angeles Department of Children and Family Services is "actively investigating Sheena and this entire matter. It will take several more weeks for the investigation to be completed," the insider revealed.
"It's looking extremely likely that DCFS will turn their findings over to the police and the district attorney's office. The fact that Sheena appeared on camera admitting that she made the entire thing up has actually hurt her."