David Hasselhoff's Ex Wife: I'm Considering Being A Surrogoate For Zsa Zsa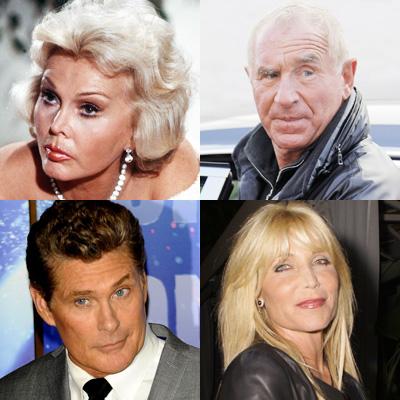 by RadarOnline.com Staff
Actress Pamela Bach-Hasselhoff, former Baywatch hunk David Hasselhoff's ex-wife, is setting the record straight on the strange-but-true baby plot involving ailing actress Zsa Zsa Gabor and her husband, Prince Frederic von Anhalt: "It's true," she tells RadarOnline.com.
"He (von Anhalt) did ask me about the possibility of me being a surrogate mom for them," said the 47-year-old actress Pamela, who bore Hasselhoff two kids during their 18-year marriage. "They (Zsa Zsa and Frederic) have expressed how they would be honored to have my genes for their child.
Article continues below advertisement
"As they've told me, Zsa Zsa and Frederic regard me as one of the most beautiful women they know, alongside Grace Kelly and Bo Derek."
Von Anhalt met Pamela for lunch in Los Angeles this week and suggested that she could carry his child with his frail screen legend wife. Gabor, 94, was rushed to hospital again Wednesday with symptoms of pneumonia.
Von Anhalt, Gabor's ninth husband, has said the couple are trying to use his sperm, an egg donor and a surrogate mother in a bid to have a child together.
"She was thrilled when I brought it up," Von Anhalt told RadarOnline.com. "She said she'd do something like that even if it sounded crazy!"
Pamela is gestating the proposal.
"I'm flattered... from a standpoint it was asked of me," she told RadarOnline.com, adding: "I do wish them both all the happiness and share the love they have for each other."
What's more, Pamela denied statements from a supposed rep to another website that she "refused to acknowledge the delusional ramblings of (Von Anhalt)" and labeled the plan "a desperate attempt for attention."
Article continues below advertisement
Gary Smith, the star's actual publicist, said he never made that statement, so the hunt is on for the rogue spokesperson!
Smith said Bach-Hasselhoff is about to embark on an exciting project, starring in a feature film alongside an Oscar-winning which begins filming next week.
Bach-Hasselhoff says she's currently starring in a new movie alongside an Oscar-winning actor she declined to name.
RELATED STORIES: