EXCLUSIVE PHOTOS: Zsa Zsa Gabor's Husband To Sell Her Fur Coats To Pay The Bills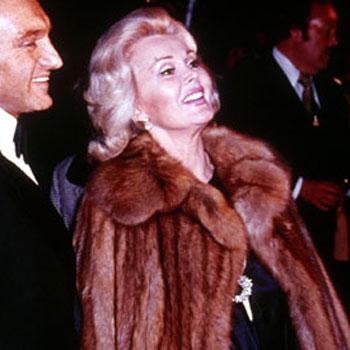 Zsa Zsa Gabor made a career of joking about her man-hungry ways and her love of all things opulent so it should come as no surprise that the actress has a large collection of fur coats.
In an exclusive interview with RadarOnline.com, the actress' husband, Prince Frederic von Anhalt reveals that he plans to sell all of Zsa Zsa's furs - valued at over $600,000 - and he'll be placing the items up for bid on his website in the coming days.
Article continues below advertisement
According to Prince Frederic, Zsa Zsa hasn't worn the fur coats and capes for years at the request of PETA and they have been kept in cold storage, costing the actress and her husband $1200 a year - a waste of money says Frederic.
"Why should I pay $1200 a year? The furs don't get better with age and I need lots of money to pay bills so I'm going to sell them.
"I'm sure the animal lovers will be upset by this sale but what am I going to do with them? Zsa Zsa is an animal lover too so I was surprised she even bought the coats.
"She will never wear them again. The doctor says she will never get out of bed so I want the coats out of our life."
The 12 fur coats and capes, mostly Russian Sable, were all custom made for the glamorous actress and feature an embroidered signature inside.
Prince Frederic is planning on previewing the items at a store on Rodeo Drive in Beverly Hills and then auctioning them off on his website along with other Zsa Zsa collectibles and memorabilia.