Brit Who First Reported On Botox Mom Says She's Victim Of Extortion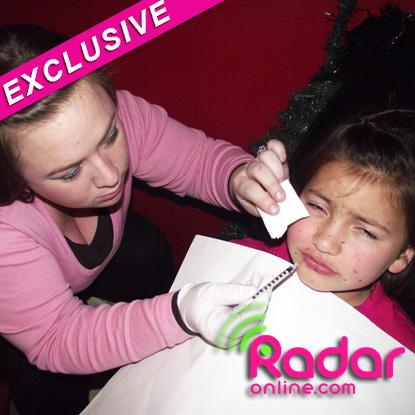 RadarOnline.com Executive Editor
Alley Einstein, the British reporter who first reported on the Botox mom in March, says she definitely witnessed Sheena Upton inject her daughter with something from a bottle bearing a Botox label, she told RadarOnline.com.
"Could there have been something other than Botox in the bottle? Sure it's possible," Einstein said. "She's just a ridiculous human being."
As RadarOnline first reported Monday, child protection officials in Los Angeles have suspected since a May 12 segment on Upton appeared on ABC's Good Morning America that Upton's claims were bogus.
Article continues below advertisement
Identifying herself as "Kerry Campbell," Upton claimed she routinely injected 8-year-old daughter Britney with Botox so that Britney could compete in kiddie pageants.
This morning, however, Upton issued a statement she made the whole thing up. She still could lose custody of her two daughters for good, RadarOnline.com is reporting.
Einstein now says Upton has been trying to extort money from her for weeks, threatening to let "all hell break loose" if she wasn't sent money. In March, Einstein said she paid Upton $800 for her story, which first appeared in the British magazine Closer. The story was then picked up by the London newspaper The Sun before the GMA interview.
"This woman cannot be trusted," Einstein said by telephone from England. "She's been asking me for thousands of pounds or she'd go public. Needless to say, I didn't pay her."
Einstein said she met with Upton in a West Hollywood hotel after hearing about the story through a relative of Upton that Einstein interviewed in the past for another article.
"I told her she'd be one of the world's most hated women when my article would appear," Einstein said. "She said: 'That's fine! I'd be happy if that occurs!'"