Ex-Pol, Mark Foley, Schwarzenegger Friend: 'It's Hard To Live With A Secret!'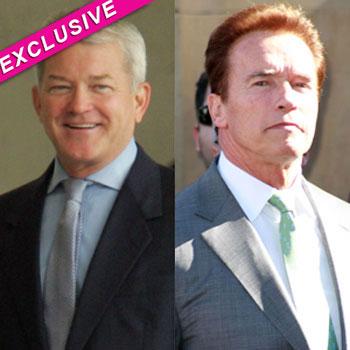 Radar Executive Editor
Ex-U.S. Rep. Mark Foley was in the place where revelations about a child out-of-wedlock landed action hero Arnold Schwarzenegger.
In 2006 Foley, a family values Republican from Palm Beach, Fla., hit Scandal Row with a vengeance when his blue text messages to male Congressional pages were leaked to the media.
In private, Foley always appeared with his gay partner. In public, however, he dated women and pushed Conservative causes. Within hours, Foley resigned his public office and checked himself into alcohol rehab.
Article continues below advertisement
Five years later, Foley still knows what it's like to live with a secret, and he says he knows how his longtime friend Schwarzenegger must feel today.
"It weighs on you at every moment," Foley told RadarOnline in an exclusive interview. "Every time I was on the radio or on TV, I wondered if someone would bring up the fact that I'm a gay man. Every time you're headed to a public forum, you're thinking: 'What if somebody pops the question?'
"I'm sure his secret was constantly in the back of Arnold's mind. As a public person, we always worry about what will cause our downfall."
Former governor of California Schwarzenegger announced last week that he and wife Maria Shriver, a member of the Kennedy political clan, were separated. No reason was given. But today, Schwarzenegger admitted to having had a love child with a house staffer.
How could Schwarzenegger keep this kind of secret this long? It takes enablers, Foley said.
Article continues below advertisement
"The mother of this child obviously kept it quiet," said Foley, who once had so many showbiz contacts that he was considered to replace Jack Valenti at the head of the Motion Picture Association of America in the mid-2000s.
But now that the secret is out, Foley said, what's really heart-wrenching is what he called "collateral damage," family members and friends.
"Just think about Maria Shriver and here side of the family," Foley said.