Exclusive
8-Year-Old Botox Child Being Cared For By Family; Not In Foster Care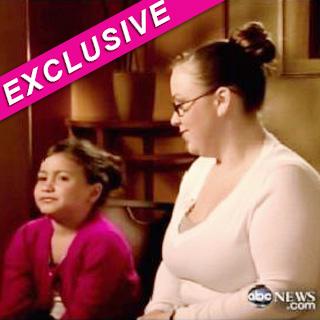 Radar Legal Editor
Britney Campbell, the 8-year-old who received Botox injections from her mother, Kerry, is being taken care of by family members after Child Protective Services in San Francisco removed Britney from her mother's house over the weekend, RadarOnline.com has exclusively learned.
"Britney wasn't put in the foster care system. Officials were able to place Britney with family members that live in the area. Britney misses her mom, terribly. Britney is safe, and being well cared for. She doesn't understand why this is happening, and Britney thinks this is her fault," an insider told us.
Article continues below advertisement
The mother-daughter duo made international headlines last week after Kerry admitted to giving Britany injections of Botox to help the 8-year-old's career in beauty pageants. Kerry, an aesthetician, isn't allowed under California law to give Botox injections, to anyone. Only a doctor or registered nurse can perform the procedures.
Britney said that receiving the injections from her mom "hurt sometimes," but that she wanted the injections because she complained to her mom that she was getting wrinkles.
"There is no timetable about how or when Britney will be allowed to go back and live with her mother. It could be sometime, officials are going to conduct a very thorough and exhaustive investigation. Officials are concerned not only for the fact that Britney was getting Botox injections, but also for the potential psychological trauma that this little girl has been exposed to since news of the controversy broke. An eight-year old talking about wrinkles is very, very troubling," the insider said.