Exclusive
Rosie O'Donnell Defends Chris Brown: 'He's A Victim Too'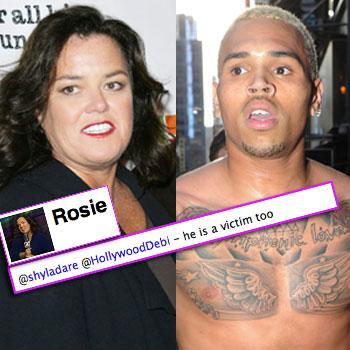 Chris Brown has an unlikely new ally – Rosie O'Donnell is defending the young singer, who has been plagued with bad press since the 2009 beating of his then girlfriend, Rihanna, insisting: "He's a victim too."
Rosie, never one to shy away from controversy, made several comments on her Sirius XM show Rosie Radio, before following on with a series of tweets.
"I just don't know why this kid seems to be held to a different standard than anyone else," she said during the broadcast Monday, addressing the Rihanna incident as well as Brown's recent temper tantrum that resulted in a broken window in his dressing room after he stormed off the set of Good Morning America.
Article continues below advertisement
When Rosie's executive producer implied there is a racial aspect at play, she agreed, replying: "I totally think there is, and I also think it's why he felt he was safer with Robin Roberts who is also African-American and conducted Brown's ill fated GMA interview." Rosie added that she felt "mildly angry" at Robin while watching her interview Chris.
Brown's anger was a result of Roberts pressing him on the subject of Rihanna – he later apologized for his meltdown, saying he got "very emotional."
After her broadcast Rosie carried on her defense of Brown over the internet, responding to criticism of her comments via her Twitter account.
"He was held accountable - he did his service - the judge commended him - he grew up in a violent home - he is only 21," she tweeted.
Following up with: "I have compassion for both he and rihanna - it is not a simple discussion - layers n layers."
"He is a victim too"