Exclusive
EXCLUSIVE: Chris Brown's Mom 'Very Disturbed And Upset' By His Behavior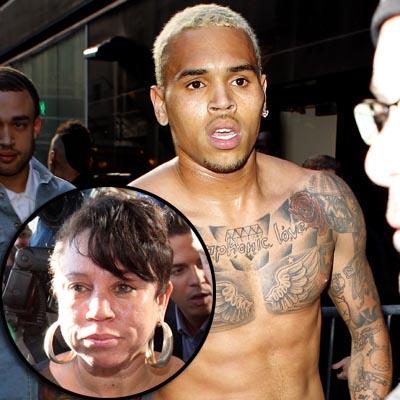 Chris Brown's mom and manager, Joyce Hawkins was "very disturbed and upset" about what happened on Good Morning America Tuesday, RadarOnline.com is exclusively reporting.
Joyce wasn't with Chris at the GMA appearance, but she spoke to him shortly after he stormed out of the studios and the window in his dressing room was discovered broken – reportedly by Brown.
"Joyce spoke with Chris immediately after he left the studio in midtown," a source close to the situation told RadarOnline.com. "She was very, very upset with him. Joyce isn't only his mother, but his manager as well.
Article continues below advertisement
"She reminded Chris about how hard he had worked on the album, and Joyce didn't seem distressed about the line of questioning that Robyn Roberts gave him regarding Rihanna. Joyce told Chris not to lose his cool again, that is what people expect him to do.
PHOTOS & VIDEO: Chris Brown Breaks Window At GMA Studios, Leaves In A Shirtless Huff
"Chris listened to his mom, and seemed to take what she said to heart. Chris doesn't want to disappoint Joyce at all, and he could hear it in her voice."
Chris appeared to "visibly calm down" after talking to Joyce the source said. "She has that impact on him. Joyce told Chris he was going to have to conduct himself with more control in interviews, because he will continued to be asked about Rihanna. Chris just feels like he can't catch a break, and wants to move on from what happened. Joyce encouraged Chris to express himself through his musical performances though, and she told him to take any negative energy he is feeling, and channel it into the music."