Rihanna, Lady Gaga & Eminem Sweep Billboard Music Awards Nominations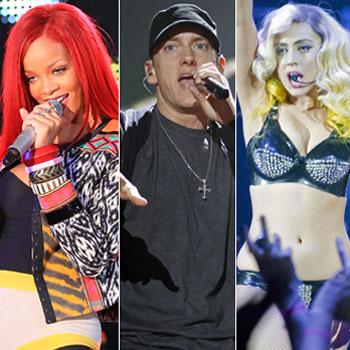 Rihanna is the Only Girl to score the most Billboard Music Awards nominations!
The finalists for the 2011 Billboard Music Awards were announced on Wednesday, with the sassy pop-singer dominating over her chart-topping peers with 18 nominations in such categories as Top Hot 100 Artist, Top Female Artist, Top R&B Artist and Top Dance/Electronic Artist, with her "Love the Way You Lie" collaboration with Eminem scoring six nominations on its own.
Article continues below advertisement
Eminem trailed behind Rihanna, nominated for 16 categories, with "Fame Monster" Lady Gaga rounding out the top three with 12 nominations.
Justin Bieber and Bruno Mars tied with 11 nominations, while Ke$ha, Nicki Minaj and Taio Cruz are all up for 5.
The Billboard Music Awards, which will feature performances from Rihanna, The Black Eyed Peas, Jennifer Lopez and more, will take place on May 22nd in Las Vegas.