Eminem Passes Lady Gaga In Facebook Popularity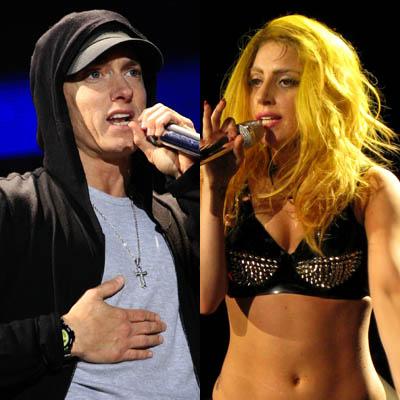 Eminem might have burst Lady Gaga's bubble -- or should we say, cracked her egg?
On Thursday, social media tracker Famecount announced that the Detroit rapper has soared past the New York-based pop sensation in becoming "the world's most popular living person on Facebook," RadarOnline.com has learned.
The Drug Ballad singer, who won the award for best rap album at this month's Grammys, edged out the Bad Romance singer in Facebook fans with 28.88 million to Gaga's 28.87. (The late Michael Jackson has 29.13 million Facebook fans, better than both.)
Article continues below advertisement
"This new landmark follows a spectacular year for Eminem, with the release of Recovery and wins at the Grammys matched by surging social media fame," Famecount Daniel Dearlove said. "Although Eminem cannot afford complacency; Lady Gaga knows how to command attention and the release of Born this Way puts her back in the spotlight."
Both should stay on the ball, actually, as Dearlove thinks a certain singer with a high forehead, long red hair and a sexy sense of fashion might lap both Eminem and Gaga before too long.
"Rihanna is one to watch -- currently the fastest growing star on Facebook," he said.
RELATED STORIES: