Queen Consents Royal Wedding, William And Kate Can Marry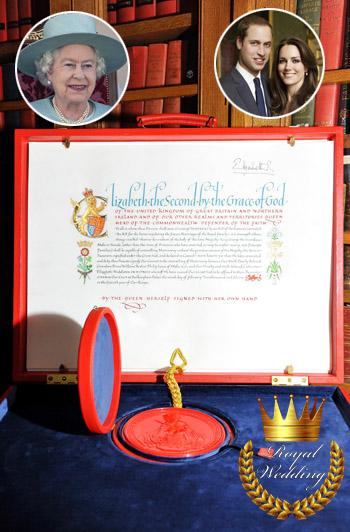 By Alexis Tereszcuk
Radar Staff Reporter
Kate Middleton is one step closer to becoming a princess.
Queen Elizabeth II has officially granted her blessing to the marriage of her grandson Prince William to Kate with a lavish document unveiled Thursday, which is also the Queen's 85th birthday.
"Our Most Dearly Beloved Grandson Prince William Arthur Philip Louis of Wales, K.G., and Our Trusty and Well-Beloved Catherine Elizabeth Middleton," the elaborate notice of approval reads.
Article continues below advertisement
Following old fashioned social protocol, William had asked Kate's parents, Carole and Michael Middleton, if he could marry their daughter and now the Queen has followed the law of the land by formally approving the marriage.
The Instrument of Consent, as the document is called, will be given to the couple after they are married.
Kate and William will tie the knot on April 29 at the historic Westminster Abbey in front of 1,900 guests and hundreds of millions of viewers world-wide.