Prince William - 'I Hope I'm Not Too Nervous'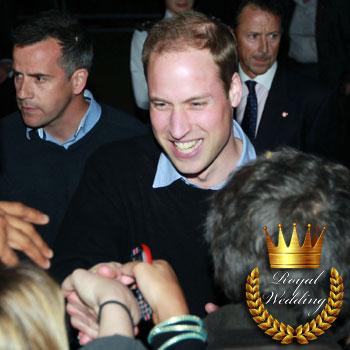 Radar Staff Reporter
Does the groom have wedding jitters too?
The night before the royal wedding Prince William and his brother Prince Harry made a surprise appearance to talk with waiting fans.
The princes emerged from Clarence House, the royal residence where they're spending the night before William's wedding to Kate Middleton, to chat with the crowd waiting outside.
When asked how he was feeling, Prince Williams said, "I hope I'm not too nervous tomorrow." He thanked the crowd and even told them, "Make sure you wave at Charles and Camilla," referring to his father and stepmother.
Article continues below advertisement
Harry, his best man, joked with the crowd telling them, "I'm sleeping out here tonight.
"The atmosphere is fantastic. That's why we came out. In there we can hear it," Prince Harry added.
Princess-to-be Kate is spending the night with her family at the Goring Hotel.
The Royal Wedding begins at 1 am PT /4 am ET Friday, and RadarOnline will carry the entire festivities live!
RELATED STORIES:
Kate Middleton Arrives At Goring Hotel For Last Night As Single Lady