PHOTOS: X Factor Auditions Draw 7,500 To University Of Miami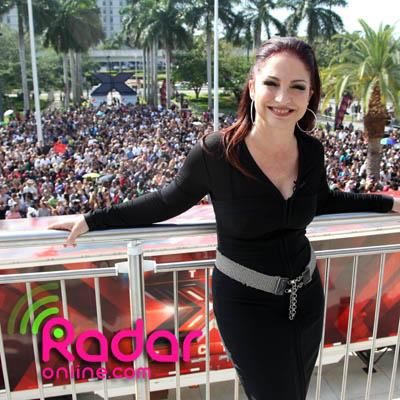 LeBron James' mother isn't the only one making headlines in South Florida this week, as more than 7,500 hopefuls flooded University of Miami's Bank United Center Wednesday to audition for Simon Cowell's latest TV import, The X Factor, in hopes of capturing the show's grand prize, a $5 million recording contract.
Contestants gathered in the week hours of the night to stand in line for the upcoming show, which has been a hit in the UK for several years, spawning pop star Leona Lewis.
Article continues below advertisement
The Queen Of Latin Pop, Gloria Estefan, was on hand to greet the would-be stars, and share some helpful advice.
"I hope all of you have a great day and remember to go all out!" Estefan told the crowd.
"You've got one shot -- one chance -- so make sure you give it your all. Be yourself, the only thing you can offer is originality to the world. There's a lot of great singers and dancers but you have to do what makes you unique.
"Good luck and make Miami proud!"
The criteria for the X Factor talent pool opens the door to a significant wider array of hopefuls than Cowell's former show, American Idol: Musical groups are allowed to enter, and the age limit is a mere 12-years-old.
Boca Raton student Isabella Guerrero, 12, said "I'm really into performing... I just love being on stage. I've heard X Factor is the biggest stage in the world so that's why I'm here."
Article continues below advertisement
EXCLUSIVE PHOTOS: Royal Comic Book
On the other end of the spectrum, grandfather and Vietnam vet Henry Robinson, traveled from Georgia to Florida for his 70th birthday, and the auditions.
"I survived Vietnam and the next thing I want to get past is Simon Cowell," he said.
"It was my birthday a few days ago and this will help me celebrate it. I've always wanted to have the chance to get my voice heard and will never miss an opportunity to make something of myself.
"I can cope with whatever Simon or the others throw at me. After what I've been though and seen I have peace, serenity and calmness in me. I just want to see what I can accomplish."
More try-outs are schedules until end of May with cities such as New Jersey, Chicago, Dallas and Seattle on the slate. Cowell Thursday also announced the launch of audition studios in Honolulu, Phoenix, Nashville, Anchorage, Kansas City and Denver.