THE WEEK IN PHOTOS: Reese Says 'I Do,' Bieber Fever Overtakes France & Snooki Smells What The Rock Is Cookin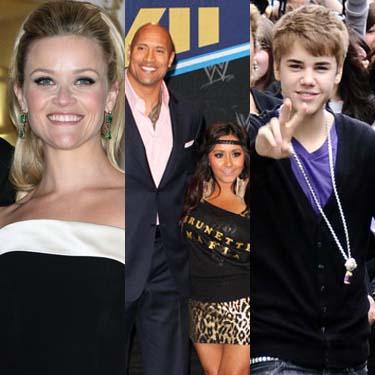 Christina Aguilera didn't care who was looking as she indulged in a passionate make-out session with boyfriend Matthew Rutler.
The pair was spotted making out in the back seat of a chauffeur-driven car as they left Il Ristorante di Giorgio Baldi in Santa Monica Saturday. They were in full view of other patrons waiting for their cars, as well as several photographers.
Simon Cowell's new singing competition is sure to be a winner -- if the size of the crowd auditioning in Los Angeles Sunday is any indication. The X Factor, which has been a hit in the UK for several years, will have an American version premiering this fall on Fox. It allows people ages 12 and up to compete and accepts singing groups. An estimated 18,000 hopefuls turned out at the Los Angeles Memorial Sports Arena for the first of several audition opportunities that will take place around the country this spring.
Article continues below advertisement
Lindsay Lohan was out in her Venice, California neighborhood Saturday, and her outfit was definitely eye-catching. Lindsay and a pal dined at the trendy local watering hole, The Otheroom, and then strolled around the artsy neighborhood.
One lucky photographer hit the socialite trifecta Saturday, as Paris, Nicky and Kathy Hilton attended the Starlight Children's Foundation 2011 A Stellar Night Gala. Paris has been keeping a low profile as of late, reportedly working on a reality show with Charlie Sheen's estranged wife, Brooke Mueller.
Article continues below advertisement
Teen Mom 2's Jenelle Evans was taken into custody late Sunday in connection with two misdemeanor charges of simple assault and simple affray. The arrest stemmed from a viral video of Evans, 19, fighting a love rival named Britany Truett over a boy named Kieffer Delp, who was also arrested on an unrelated outstanding drug charge. In the clip, Evans was seen punching Truett (who'd pressed charges) repeatedly in the face.
Article continues below advertisement
Uma Thurman and her on-again-off-again beau Arpad Busson had a Brady Bunch moment in Paris, taking their children for a day of sight-seeing in the City of Lights. Uma and her kids Maya Ray and Levon Roan, both from her marriage to Ethan Hawke, joined Arpad and his boys Arpad Flynn Alexander and Aurelius Cy Andrea, both from his relationship with supermodel Elle Macpherson, for a day of family-oriented activities, including visits to the Eiffel Tower, The Bateaux Mouches and a walk along The Quais De La Seine.
Twilight's Ashley Greene, Superbad's Emma Stone and Slumdog Millionaire's Freida Pinto are all gorgeous stars slated for box office success in 2011. With a collective 14 movies coming out this year, Glamour magazine features the trio of bombshells in their May 2011 New Stars issue.
On Tuesday, Justin Bieber was the brightest star in the City of Lights. The Baby singer was seen departing his Paris, France hotel followed by a crowd of screaming admirers, as he continued on his European tour. The 16-year-old Canadian pop sensation, wearing a large pendant of The Family Guy's Stewie, received his usual reaction -- think an updated Beatlemania -- as a gaggle of emotional French girls literally shed tears over his presence.
Article continues below advertisement
They filed for divorce less than eight weeks ago, but Ashlee Simpson and Pete Wentz seem to be keeping things copasetic. Along with their son, Bronx, the couple picked up coffee at the popular Beverly Glen mall on Thursday morning.
Courteney Cox and Josh Hopkins are doing little to dispel those dating rumors, as the sizzling hot duo were seen for a second day in a row, frolicking in the Caribbean surf. Courteney was looking absolutely smoking hot in a black bikini and her hunky 40-year-old Cougar Town co-star was looking none too shabby either.