Exclusive
PHOTOS & VIDEO: Prince William Calls His Wedding 'A Daunting Prospect'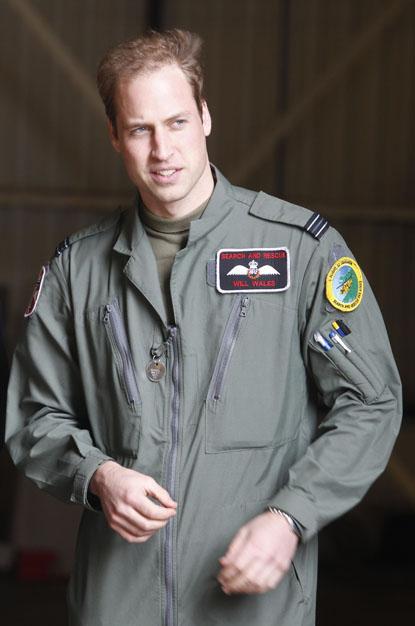 Article continues below advertisement
"It's quite a daunting prospect but very exciting, and I'm thoroughly looking forward to it. But there's still a lot of planning to be done in the last four weeks," he added.
The normally shy prince went on to say how happy he was that his bachelor party last weekend was successfully kept a secret: "It was a military operation and I'm very proud to have done it," he said cheerfully, but refused to give away any details even after the fact - even if he had a hangover! "You're not getting anything out of me," he laughed.
Talking from the Arctic during his trek to to the North Pole, Prince Harry revealed that his big brother would much rather get wed with less fuss. "I think if he had his way he'd love to have a small wedding with just his close friends," he said.
Back in Britain, William welcomed the 'other woman' in his life to his workplace on Friday - his grandmother, Queen Elizabeth II.
The Queen braved gale force winds to visit her oldest grandson, and the person who will one day take her place on the throne, at his Royal Air Force base in Anglesey, Wales.
Article continues below advertisement
Looking dashing in his RAF jumpsuit, William excitedly showed his Gran around the hangars while pointing out different helicopters as she listened and smiled enthusiastically.
The 28-year-old groom-to-be wasn't embarrassed to kiss his grandmother in front of his workmates, but GMA reported that his military colleagues don't let him off without some gentle ribbing. It's also been reported that every day they make him drink out of a 'William and Kate' mug, and put a royal wedding pillow on his bed!
In his job at the base, William often conducts search and rescue missions flying Sea King helicopters. "It can get very hairy especially when you've got somebody like me at the controls," he joked.
"When you're flying at night in Snowdonia and you have the mountains, 40 knot winds, the cloud is down to 200 feet, and you're trying find someone who has broken a leg or is lost on a hill it gets quite interesting."
Article continues below advertisement
Despite his blue blood, William clearly takes his job very seriously. "I wouldn't want to be here for any other reasons other than that I have proved myself and I can do the job."
When he's not flying helicopters, William admitted that he and Kate do a good job of hiding from prying eyes at their Welsh farmhouse: "We are left alone, it's good."
Their wedding on April 29 will be a whole different story though as a billion people are expected to watch - it's no wonder he's nervous!