VIDEO: Prince Harry Breaks Silence On Prince William's Wedding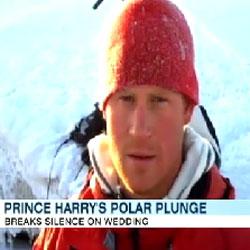 With Prince William's upcoming wedding to Kate Middleton in 30 days, RadarOnline.com has learned that his younger brother Prince Harry made his first public statements to Good Morning America Wednesday about his brother's walk down the aisle, and how he's preparing to be the best man.
Prince Harry is currently training in subzero frost of the North Pole for a 200-mile, 22-day expedition to raise money and awareness for British soldiers who've been injured in war. So in between diving into icy pools and hiking up snow-covered mountains, will the prince be penning his best man speech in the chilly conditions?
Article continues below advertisement
"Writing a speech while I'm stuck in a tent in minus-14 degree weather?" the red-headed royal said. "If there's time, then yeah.
"I might give it some thought," he said, adding that the trek takes precedence.
"I'm here for these guys and these guys alone... that part of my life (the wedding) will be kept separate, probably," Prince Harry said.
"It didn't seem right... to ignore these guys," Prince Harry said, adding he hopes to get into game shape for the trek before he decides to "jump on a plane and get back home."
The prince said in an earlier statement why he's embarking on the dangerous mission.
"This extraordinary expedition will raise awareness of the debt that this country owes to those it sends off to fight -- only for them to return wounded and scarred, physically and emotionally," the prince, 26, said. "The debt extends beyond immediate medical care and short-term rehabilitation."