PHOTOS: Sam Ronson Sports Bruised Face After Bike Accident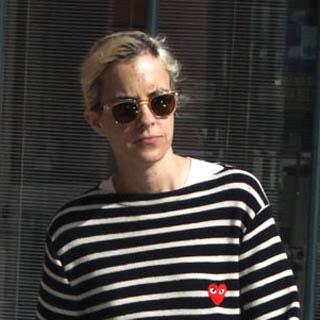 Celebrity DJ Samantha Ronson was spotted walking around Beverly Hills Tuesday with marks on her forehead after a bike accident this weekend, and RadarOnline.com has the photos.
The 33-year-old former girlfriend of Lindsay Lohan fell off her bike near her home in Venice, California on Saturday when she was forced to make a quick swerve to avoid a car that came out of nowhere.
After posting a photograph of her beat-up face on her blog, Ronson sounded out a warning to other bikers with a caption that simply read: "Wear a helmet kids!"
Article continues below advertisement
But the notorious party-girl also used her Twitter page to tell followers that she had not been drinking prior to the crash.
"I wasn't drunk," she clarified in a Tweet.
Ronson also used Twitter to answer some questions surrounding the accident.
When a fan asked her "Are You Ok?", she replied: "Yes sir!! :) Just a little uglier than usual. Other than that, vicodin is handling the rest."
She also answered one user's question of "How did this happen?" with a simple answer: "avoiding a car!"