EXCLUSIVE: Lindsay Lohan Returning To New York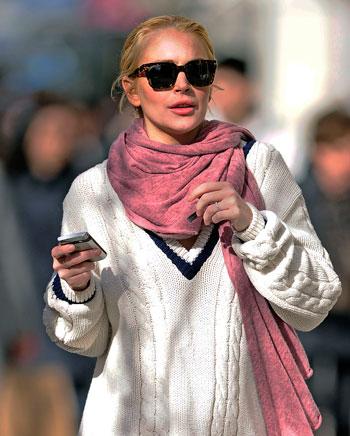 Lindsay Lohan is headed back to New York City as soon as Monday night, now that she has told a Los Angeles judge she won't be accepting a plea deal in a theft case that would have sent her to jail.
Lohan, 24, returned to L.A. last week to meet with her lawyers after spending time in the Big Apple, where she made a string of nightclub outings.
Now RadarOnline.com has learned the troubled starlet will reunite with her Long Island-based family again, including mom Dina, sister Ali and teenage brother Cody.
Article continues below advertisement
"She is looking forward to seeing them all again," a family insider told RadarOnline.com, exclusively.
EXCLUSIVE INTERVIEW: Lindsay Lohan On Ex Sam Ronson's New Girlfriend -- 'She's A Friend Of Mine'
"Lindsay travelled to Los Angeles with her eldest brother, Michael Junior; he is such a good influence on her and they will head back to New York, together."
Lohan travelled to New York earlier this month to spend what was termed 'quiet time' with her family while she mulled over whether or not to accept a plea deal in her grand theft case after she was accused of stealing a necklace.
EXCLUSIVE PHOTOS: Lindsay Lohan Spends Valentine's Day With Sam Ronson!
Defiantly, Lohan will fight the charge stemming from the January 22 incident at Kamofie & Co. boutique.
A preliminary hearing for the Mean Girls star will be held April 22 to determine whether there is evidence for her to stand trial.
If convicted, the actress faces the possibility of going to California state prison for as long as three years.