PHOTOS: Kate Gosselin Stays In Shape With Afternoon Jog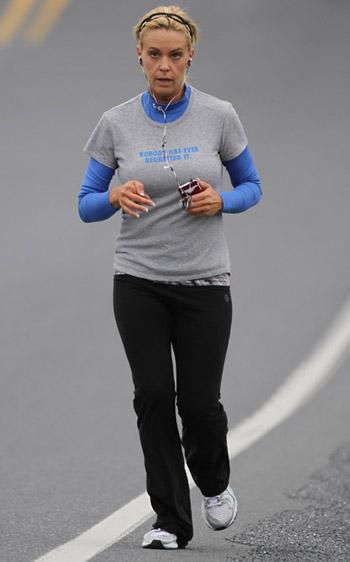 Kate Gosselin won't be regretting her afternoon jog - at least if the T-shirt she was wearing on Sunday is anything to go by.
The reality TV star wore a top emblazoned with the phrase 'Nobody Has Ever Regretted It' as she pounded the pavement near her home in Wernersville, PA and RadarOnline.com has the keep fit photos.
Looking trim and toned it's hard to believe the reality TV star is a mother of eight young children.
Article continues below advertisement
And while she now has an enviable figure she admits her quest for the perfect body wasn't an easy one.
Just last year she ditched the treadmill in favor of daily jogs near her home, and she credits these for transforming her physique.
"This is the most fit I've ever been," she told People. "I started wondering if I could run as far as this one spot near my house. I figured the only way to find out was to do it. So I did, and each day I just kept going.