Exclusive
EXCLUSIVE INTERVIEW & PHOTOS: Lindsay Lohan Arrives Back In L.A.; Mom Dina Wants 'Stalker Laws' To Stop Paparazzi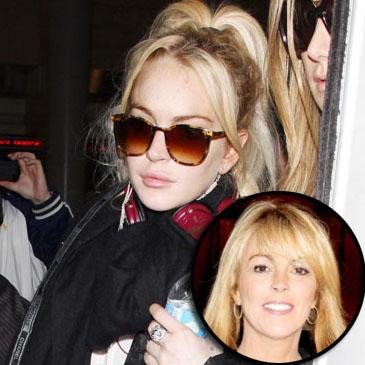 As Lindsay Lohan arrived at the airport in Los Angeles Wednesday to a crush of cameras, her mother Dina is calling for the paparazzi to leave her daughter alone.
The 24-year-old Mean Girls starlet recently made a panicked call to her mom as paparazzi pursued the car she was travelling in after a late night out in New York City.
Cops were called to Lohan's Midtown hotel after a car carrying her entourage collided with another, which was being driven by a photographer.
Article continues below advertisement
"It is really dangerous," Dina told RadarOnline.com in an exclusive new interview.
"It truly makes the case for stalker laws."
"In Manhattan, it is even more dangerous because the streets are tight and there are so many people on the sidewalks."
According to the New York Post, Lohan departed the East 58th street hot spot Lavo, which began the chaos.
Soon after, police were called to the Chartwal Hotel at 2:15am to interview the driver of a Black Navigator carrying Lohan's friends.
The rehabbed actress was not involved in the crash, but was in a nearby White Range Rover contacting her mom about the press hounding her.
"Lindsay called us because she was panicked about the paparazzi chasing them again," Dina said.
"I'm not as worried about her because we have an amazing driver and she is in a huge car, but I am concerned about all the pedestrians on the street corners."
In January of last year, Lohan was involved in a car crash in West Hollywood with pursuing photographers and then a "high speed chase" twelve months later.