EXCLUSIVE INTERVIEW: Jerry Springer To Katie Couric: 'Do The Opposite Of What I Do!'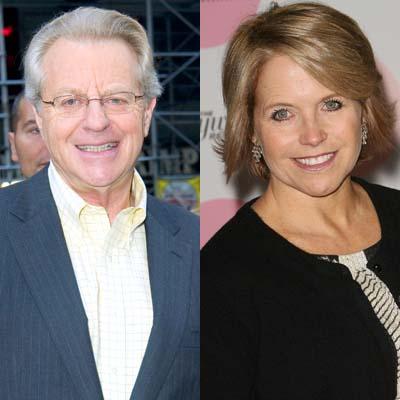 The self-proclaimed king of trash TV, Jerry Springer, has a word of advice for aspiring daytime chat show host Katie Couric: "Just take what I do, and do the exact opposite!"
Speaking exclusively to RadarOnline.com, the host of the highly-successful tabloid talk show, The Jerry Springer Show, spoke out about the CBS Evening News' anchor's plans to launch a syndicated show and leave the news desk.
"I can't talk advice for her... just take what I do and do the exact opposite," he said, adding: "I do a circus!"
Article continues below advertisement
Springer said: "I think people will tune in and she's really able to talk to people about anything from world leaders to all the dysfunctional people I talk to... although I don't think she'll go down that road."
Springer said the Emmy Award-winning journalist has what it takes to break into the world of talk -- a populated genre set to be vacated by the queen of talk Oprah Winfrey, who is set to end her popular daytime show after 25 years on Wednesday, May 25.
Anderson Cooper, Rosie O'Donnell and Martin Bashir have all confirmed television projects to compete for a share of Oprah's audience.
"I think Katie would be a natural for a talk show," Springer told RadarOnline.com.
"I think she's great at whatever she does. She's unbelievably talented, bright, likeable and she knows how to communicate."
In a recent issue of The New York Times, Couric admitted she's been talking with her former "Today" show boss and NBC boss Jeff Zucker about hosting her own talk show.
Article continues below advertisement
Asked what she'd been known for, Couric said: "Hopefully for smart conversation."
Springer said there wouldn't be one television network who wouldn't want Couric's chat show on their airwaves.
"Who wouldn't want her?" he said.
"She ought to do what she wants to do... Just do what it is you enjoy and be effective at it. You gotta get as much experience as you can."
But will Couric come out on top?
Said Springer: "You have to recognize it's not about you and more than likely you will succeed.
"She'll be successful. In my case, it's to stay off camera as much as possible. I realize for a talk show, I'm not the show. My job is to make sure the show is going. The show is about the guests and the performances."
Either way, Springer said he thinks Couric's time in the hard news business is over, even though the CBS Evening News anchor flew out to Iraq on Monday night for a long-planned trip.
"It's not likely she should go back to network news because that's just not the way the business works," Springer said.
Article continues below advertisement
"It may not be with the three networks, but that doesn't mean there aren't other mediums that may be more relevant.
"People are finding more news elsewhere.
"Take Arianna Huffington, there are so many new avenues that you never knew people would be open to."
While Couric, 54, has not yet officially announced her plans, a CBS executive, who spoke on condition of anonymity, reported the move to The Associated Press on Sunday night.