Exclusive
EXCLUSIVE: 'Celebrity Apprentice' NeNe Leakes Plans To Be The Next Oprah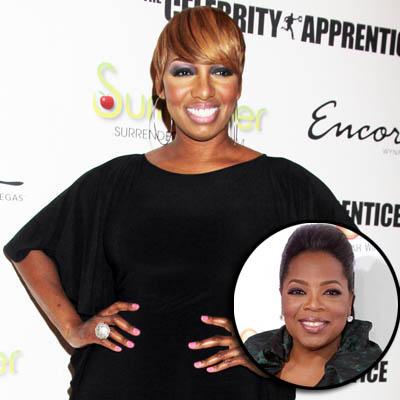 Celebrity Apprentice star NeNe Leakes wants to follow in Oprah Winfrey's footsteps by getting her own talk show, RadarOnline.com has exclusively learned.
The reality diva has been in talks with several producers and production companies and wants to relocate from Atlanta to Miami for her new venture.
The former stripper has still not signed-up to do another series of Real Housewives Of Atlanta on the Bravo Network and is working to re-invent herself.
Article continues below advertisement
A source told RadarOnline.com: "NeNe is actively shopping herself around and she wants her own chat show and if that does not happen she would like her own reality show instead.
MUGSHOT: NeNe Leakes's Son Bryson Bryant
"She was encouraged when she did some slots with local television stations in Atlanta and she thinks that she has what it takes to be the next Oprah or Wendy Williams.
"Both Bravo and VH-1 have had talks with her about several projects although Bravo were hoping to get her back for one more year on Real Housewives.
"NeNe really wants to brand herself with her own clothing, make-up and hair products lines, and she is confident she can pull it off.
"Celebrity Apprentice has given her more confidence but she sees moving to Miami as key to her success and now that her marriage is all but over she is ready to commit but she wants the right project to be in place."
Leakes, 41, loves the flashier lifestyle in Miami and she has been spotted out and about there in recent weeks with her friends Al Reynolds and Evelyn Lozado from the reality series Basketball Wives.
Article continues below advertisement
Despite the rumors, there is no romance between Leakes and Star Jones' ex-husband, but she likes the fact that he attracts attention whenever they go out together.
In recent years, Leakes has undergone various plastic surgeries on her face and body as her notoriety has continued to rise and now she is ready to try and further her career by landing her own talk show to increase her fanbase.
The source added: "Ironically, NeNe does not really like Wendy Williams but she respects what she has done and she believes that she can be even more successful than she has been.