Exclusive
EXCLUSIVE DOCUMENTS: 'The Doctors' Star Robert Lucas Being Investigated By Medical Board Of California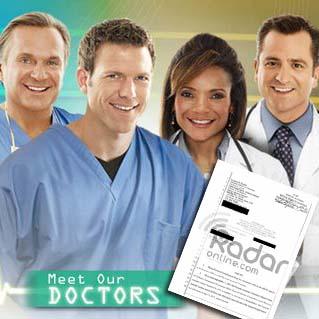 Robert Lucas, the physician assistant to plastic surgeon Dr. Drew Ordon -- one of the stars of TV's advice and talk show, The Doctors -- may have his license to practice yanked in California, RadarOnline.com is exclusively reporting.
In documents obtained by RadarOnline.com, the state's Physician Assistant Committee, represented by California's Attorney General, has requested that a hearing be held to determine if Lucas can continue to practice.
Article continues below advertisement
Read The Legal Documents Here
The reason?
The popular Lucas, who has appeared on the The Doctors numerous times and even assisted in a surgery on one episode, had two DUI convictions in 2008.
The causes for discipline listed in the official request for a hearing include Convictions of Crime Substantially Related To the Practice of a Physician Assistant, Unlawful Use of Alcohol, Conduct that Would Warrant Denial of a Certificate, and General Unprofessional Conduct.
That's the legal lingo.
Here's what happened: Lucas was arrested on both June 2 and June 24, 2008 for driving under the influence in Riverside County, CA. He subsequently pleaded guilty in both cases.
He served 20 days in jail, paid a fine of just under $2000 and was placed on probation for five years for the first incident. He spent another day in jail and additional fines in the second case. His probation in that case "ran concurrently" with the first five years.
Article continues below advertisement
The outcome of a hearing could result in Lucas having his license revoked or suspended; or he could also be placed on probation and ordered to repay the state the cost of the investigation and probation monitoring.
This isn't the first time Lucas has gotten himself in hot water with medical boards.
In 2004, the Connecticut Medical Board officially reprimanded Lucas, ordered him to pay a $5,000 fine and put his PA license on probation for six months after he was found to be administering Botox injections in a beauty salon!
"The Board finds respondent Lucas engaged in the independent practice of medicine when he administered botox and collagen injections to patients in a beauty salon in Darien," the document reads.
Connecticut law allows PAs to administer these popular beauty injections but only if they are under the supervision of an MD at the time, and Lucas was on his own at the beauty salon.
Lucas fulfilled the conditions of his probation, and Connecticut lifted all restrictions from his license on April 18, 2006.
Article continues below advertisement
But it was only days later that the state of New York jumped in on Lucas. RadarOnline.com discovered that on April 27, 2006, the New York Board for Professional Medical Conduct issued Lucas a Censure and a Reprimand and Placed Conditions on His PA License in that state.
Lucas next settled in Palm Desert, CA. He's held a license in California since September 13, 2001.
He's been Dr. Ordon's PA since 1986, and when Dr. Ordon was cast as one of the stars of The Doctors he didn't forget Lucas.