Rehab Vet Demi Lovato: 'I'm Proud Of Catherine Zeta-Jones'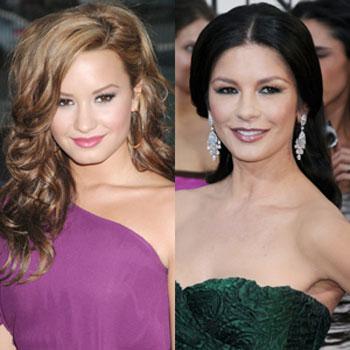 Disney star and recent rehab graduate Demi Lovato is "proud" of actress Catherine Zeta-Jones and calls her "brave" for seeking treatment at a mental health center for her Bipolar Disorder, RadarOnline.com has learned.
"I don't know Catherine Zeta-Jones personally but what she has decided to do it sic SO brave.. And SO difficult but worth it," Lovato posted Thursday on her Twitter account.
"I'm proud of her."
Article continues below advertisement
Lovato, 18, was treated for "emotional and physical issues" in November after she punched backup dancer Alex Welch while they were on tour together with the Jonas Brothers.
Zeta-Jones checked into the $1,250 per day Silver Hill Hospital in Connecticut last Wednesday, where she was treated for Bipolar II Disorder for five days.
"After dealing with the stress of the past year, Catherine made the decision to check in to a mental health facility for a brief stay to treat her Bipolar II Disorder," a rep for Zeta-Jones said in a statement. "She's feeling great and looking forward to starting work this week on her two upcoming films."