Cops: Nic Cage So Drunk He Didn't Know Where He Lived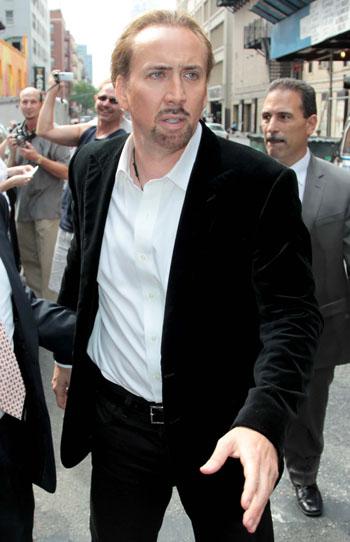 New Orleans, We have a problem. Nicolas Cage was so "heavily intoxicated" he didn't know where he lived Saturday morning, according to none other than the Big Easy PD department.
In New Orleans shooting Medallion with Malin Akerman and Danny Huston, Cage and his wife Alice are staying in a rented home.
"Cage and his wife were standing in front of a residence that he insisted was the property the couple was renting. She disagreed, and Cage grabbed her by the upper arm and pulled her to what he believed was the correct address," says the NOPD in a statement. "There were no signs of injury on his wife's arm.
Article continues below advertisement
"The actor then began striking vehicles and later attempted to get into a taxi. At that point, an officer who had been flagged down by onlookers drove up on the couple, immediately observed that Cage was heavily intoxicated and ordered him out of the cab, which prompted Cage to start yelling.
See Nicolas Cage's Booking Sheet Here
"The officers subsequently took Cage to Central Lock-up."
Cage was released on $11,000 at 12:35 pm local time.