Exclusive
EXCLUSIVE PHOTOS: DC Housewife Catherine Ommanney Makes Out In Sexy Bikini With New Lover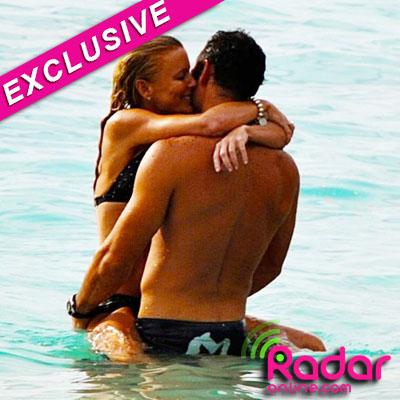 Radar Staff Reporter
The Real Housewives of DC show is over, but that isn't stopping one of the stars from going on extravagant vacation in her rockin' bikini.
Catherine "Cat" Ommanney, the British national who's said to have had a fling with Prince Harry, showed off her killer bikini bod last week in Barbados, and RadarOnline has the exclusive photos from her trip!
In her sexy black bikini, Cat got frisky with new beau Ricky Martino in the surf, seductively wrapping her legs around him while they passionately kissed.
Article continues below advertisement
The pair spent time at a luxurious resort and a source who spotted them told RadarOnline: "They couldn't keep their hands off each other."
"He's lovely, funny, talented and ambitious," Ommanney said of Martino. "I'm totally relaxed. There's no expectations. We're having a nice time. We're having fun."
Ommanney has yet to be divorced from White House photographer Charles Ommanney, but still she decided to start dating. And that, she said, improved her looks!
"I think I look several years younger," she said, adding that she can't wait to be divorced. Ommanney added she's working on the second book, a sequel to her Inbox Full.
"It's about moving to America," she said, "and starting a new life."
So, what's she looking for in a man these days?
"Well, he should not have huge issues that I'm not qualified for," she said. "I have been attracted to some of the most dysfunctional wounded souls . . . on the planet. Enough already. I want someone who's hard working and Independent, with stacks of energy and no paranoia or jealousy.