Britney Spears: 'I'm Thrilled To Have The Hot Nicki Minaj Join Me' On Femme Fatale Tour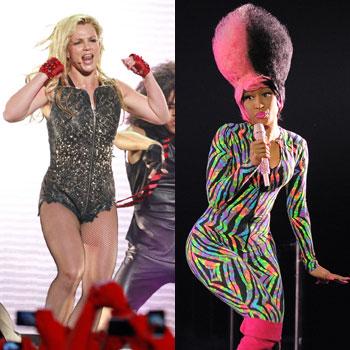 No Enrique, no problem.
After Britney Spears' double-bill with hunky Enrique Iglesias died on the vine last month, the Till The World Ends songstress announced on her website Tuesday that eccentric, young R&B breakout star Nicki Minaj will be her opening act on her Femme Fatale tour this summer.
"This is the Femme Fatale tour and I'm thrilled to have the hot Nicki Minaj join me," said Spears. "Can't wait to take the Femme Fatales on the road."
Article continues below advertisement
Iglesias last month apologized for hastily departing the tour, as he was reportedly uncomfortable with the arrangement.
"Hey guys, sorry for the confusion regarding a possible tour in the summer with Britney Spears. We are on the Euphoria tour and will continue to do so including some soon-to-be-announced dates in US. So hope to see all of you soon," Iglesias tweeted March 31.
Tickets for the Spears and Minaj concerts will be made available April 30th at Ticketmaster.com and LiveNation.com. The 26-date North American leg of the tour begins June 16th at Sacramento's Power Balance Pavilion.