AUDIO: Woman Tells 911 'Please Come' After NFL Star Brandon Marshall Stabbed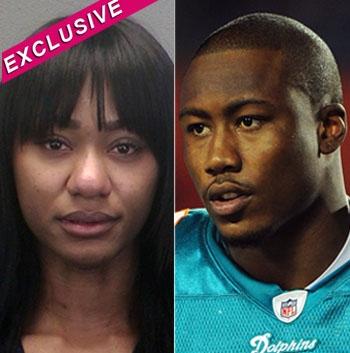 by RadarOnline.com Staff
A woman believed to be the wife of Miami Dolphins wide receiver Brandon Marshall called 911 after she allegedly stabbed the NFL star, repeating to the operator as her voice quivered: "Please come, it's an emergency!"
Michi Nogami-Marshall, 26, hung up the phone before telling the emergency operator where she was calling from. The operator tried to get the caller back on the line but no one picked up.
Article continues below advertisement
The call, according to officials with the Broward County Sheriff's Office, was placed about 4:41 p.m. Friday -- three hours before Nogami-Marshall was arrested and charged with aggravated battery with a deadly weapon. Authorities say the incident occurred at the couple's home in Southwest Ranches, near Fort Lauderdale, Fla., and that the wife claimed self-defense.
Nogami-Marshall allegedly stabbed the NFLer in the abdomen with a kitchen knife during a heated argument. Marshall, 27, refused to ride in an ambulance as he bled profusely and had a friend drive him to the hospital in his private car.
The former University of Central Florida standout underwent surgery and was released Saturday afternoon. He is expected to recover on time for next season.