Blood On Walls & Other Signs Of Struggle At Home Of Stabbed NFL Star Brandon Marshall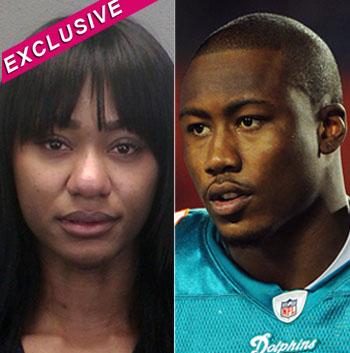 By Jose Lambiet
RadarOnline.com Executive Editor
There was blood on the walls and floor and other "signs of a struggle" at the home of Brandon Marshall and Michi Nogami-Marshall, RadarOnline.com is exclusively reporting.
Brandon Marshall, the controversial wide receiver for the Miami Dolphins, was stabbed by his wife Michi at the couple's $4 million estate Friday evening.
Click Here To Read Michi Nogami-Marshall's Arrest Report
Article continues below advertisement
Someone in the home called 911, and Broward County Sheriff's Department officers responded. An ambulance was also ordered.
"The ambulance drivers were told to turn back because Marshall refused to be transported in the rescue truck," our cop source tells us. "He was sort of embarrassed about the whole incident. He was hoping the press wouldn't hear of it, and he also wanted to protect his wife."
Marshall called a friend who drove him to Broward General Hospital, a full 30 minutes away.
According to the incident report obtained by RadarOnline.com, Marshall told officers the injury to his abdomen was caused when he fell on a broken vase. Although there was a broken vase on the floor, there was no blood anywhere near it. The star receiver also had what appeared to be "defensive wounds" on his hands, according to other news reports.
Michi Nogami-Marshall, Brandon's wife of 18 months, ultimately confessed to officers that she stabbed her husband with a kitchen knife, but alleged it was in self-defense.