VIDEO: Hollywood Producer Who Claims Match.com Date Assaulted Her Steps Out Of The Shadows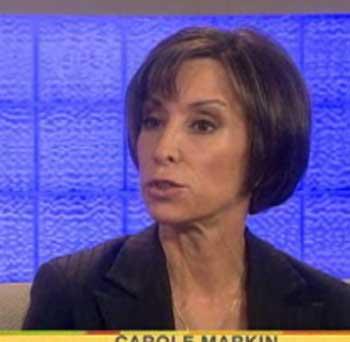 By Radar Staff
The Hollywood executive who's suing Match.com, after claiming she was sexually assaulted by a convicted sex offender she met on the dating website, revealed her identity for the first time on The Today Show Tuesday.
Freelance producer/writer Carol Markin, 53, said she's tired of hiding.
Markin told The Today Show she had a pleasant first date with her accused attacker, Alan Wurtzel, but the second date ended in horror, as he sexually assaulted her in his living room.
Article continues below advertisement
"He jumped me and then he overpowered me ... I was afraid," she said. "I don't think people go on websites thinking their gonna get themselves in unsafe situations."
Wurtzel has pleaded not guilty, claiming their sex was consensual.
After the incident, Markin said she researched Wurtzel's background and learned he'd had a history of misdemeanor sex convictions.
Not seeking any money, Markin said her civil suit against Match.com (which she filed as "Jane Doe") aims toward a reform of the website's policies, so that they cross-check their clients with the sex offender registry.
"I think I've elevated the conversation about what's going on," she said. "They're in the business of putting people together -- I think they should be responsible about this."
Watch the video on RadarOnline
The website is already implementing security changes they claimed were in the works prior to the lawsuit. The company said in a previous statement: "While incidents like this one between individuals who meet on Match.com are extremely rare, it doesn't make them any less horrifying."