Bon Jovi Seeds Brotherly Love Among Philadelphia's Homeless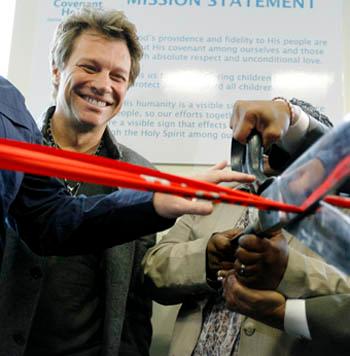 Radar Staff Writer
When rocker Jon Bon Jovi sang I'll Be There For You, he meant it!
The 49-year-old Bon Jovi just opened Philadelphia's Covenant House, a $3 million homeless shelter for teens.
The singer's Bon Jovi Soul Foundation paid for the new building because, he said, "neglecting young, homeless people denies all of us their talent and vision."
New Jersey's famous son has helped the homeless throughout the country, including in New Orleans and Newark, N.J.
Article continues below advertisement
Covenant House boss Zachary Wood told RadarOnline: "He's really coming out and lending himself to the process. He's been a big (spokesman) for homeless youth, and not someone just shaking his celebrity status around."
Bon Jovi's contributions go far beyond the obvious financial ones. They include researching and developing strategies.
For more info on Jon's foundation, click here.
RELATED STORIES: