Michael Douglas Headlines Gala At Cancer Hospital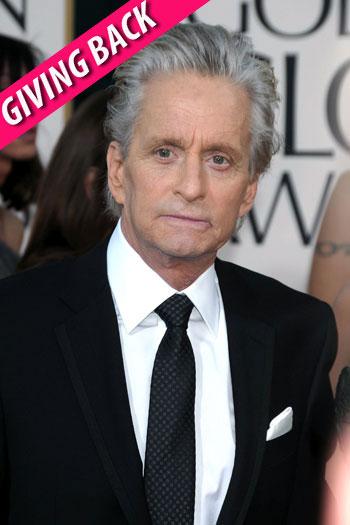 RadarOnline.com Staff Reporter
Veteran Wall Street star Michael Douglas is swapping derivatives trading for cancer fundraising.
The 66-year-old actor is so thankful to the Montreal, Canada hospital that first diagnosed him with cancer that he has agreed to headline a fundraiser at the center next month.
Douglas was diagnosed with stage-four throat cancer last summer after doctors at the McGill University-affiliated Jewish General Hospital found a tumor on his tongue – which is now gone after extensive radiation and chemotherapy treatments.
Article continues below advertisement
The May 3 gala carries a $375 a-head price tag, but for $750, attendees can buy a VIP ticket that will grant them direct access to the Oscar-winning Basic Instinct actor and his pre-event cocktail party.
Guests will intermingle with Douglas, who will give a speech and sign autographs.
"That's where he found out he had his cancer," Douglas' rep Allen Burry told the Toronto Star.
"He was happy to do it the fundraiser."
Although Douglas' wife, Catherine Zeta-Jones, recently spent five days in a mental health hospital to treat her Bipolar Disorder, she will be joining him at the event.
The A-list couple has put themselves up for auction, with the highest bidder winning a golf outing at Mont-Tremblant with Douglas and Zeta-Jones.
And it was Michael Douglas himself who reached out to the hospital in an effort to give back.
Article continues below advertisement
"We are very appreciative of his kind support – it was a gracious personal offer and certainly reflected his own inner personality and willingness to help battle head and neck cancer," Dr. Saul Frenkiel, co-chair of the fundraiser, said.
"Certainly, Michael Douglas…helps to bring to the attention of the public the need to do important research in the head and neck cancer field."
RELATED STORIES:
Hollywood H20: UNICEF Taps Water Off The Rich & Famous' Faucet For A Good Cause