Jon Bon Jovi Victim Of $100k Theft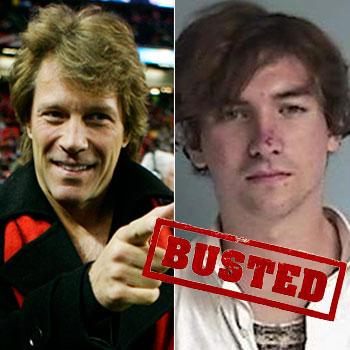 This guy is going down in a blaze of glory!
Rocker Jon Bon Jovi was a victim of theft and the man who allegedly stole $100,000 worth of jewelry him was arrested and is currently sitting in jail waiting to be bailed out.
RadarOnline.com has the mug shot of Nicolas Tracey, 21, who was charged with burglarizing Bon Jovi's $22.5 million estate in Middleton, New Jersey on April 3. He was arrested Wednesday after breaking into another home in the area and an investigation fingered him as the Bon Jovi thief as well.
Article continues below advertisement
He is charged with four counts of third-degree burglary and three counts of second-degree theft for stealing over $400,000 worth of jewelry from other homes in the area.
Tracey's bail was set at $100,000 but the judge ordered he must pay the full amount and not just the standard 10 percent to be released from jail.
RELATED STORIES:
Comic Book Stolen From Nic Cage Found, Police Confirm