VIDEO: Happy 25th Birthday To Lady Gaga!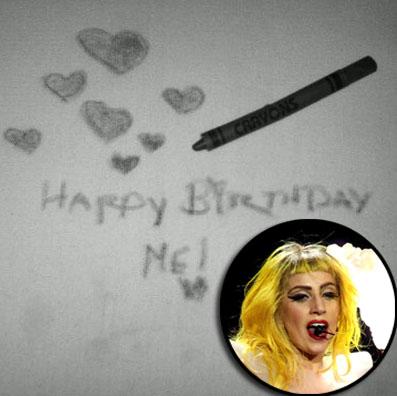 Lady Gaga was born this way -- 25 year ago today, as a matter of fact!
She tweeted a picture Monday from a tabletop she drew on during her birthday lunch, writing, "Drawing on table at restaurant. If I had to give it all back, but got to keep my fans, that'd be ok."
The New York native also got a special birthday call from talk show host Ellen DeGeneres, who sang Happy Birthday to her on her show, to return the favor as Gaga called Ellen on her birthday.
Article continues below advertisement
Watch the video on RadarOnline.com
"Gaga you were born today, Gaga you were born today, Gaga you were born today!" Ellen sang to the superstar diva to the tune of Born This Way.
Gaga (real name: Stefani Germanotta) thanked Ellen for the well wishes, adding she was busy in the studio working on her album.
"I'm so happy and excited and grateful," Gaga said.
Gaga said she's really excited as her friends and family will join her for a performance in Los Angeles at the Staples Center Monday.