VIDEO: GMA's Robin Roberts 'Shocked' Over Chris Brown Incident; Says He's Invited Back To The Show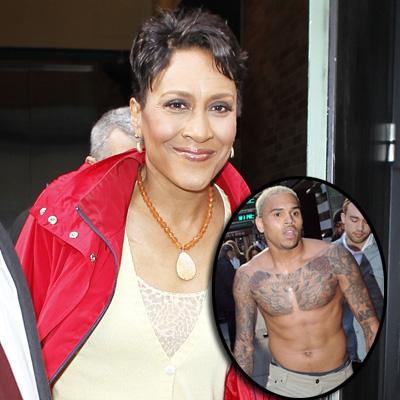 ABC's Robin Roberts said Wednesday she was 'shocked' over Chris Brown's angry reaction to her interview with him on Tuesday's Good Morning America.
On Wednesday's GMA, Roberts addressed the controversy that made headlines everywhere.
PHOTOS & VIDEO: Chris Brown Breaks Window At GMA Studios, Leaves In A Shirtless Huff
Said Roberts: "Anytime we have a guest here on the program, we let them know ahead of time the subject matter... the topics that we're going to discuss, and even right before the interview, I said that to Chris, and I was shocked, like everybody else, because we've had a wonderful relationship. I've spent time with him... at his home. He was very gracious and we had a very easy conversation. You saw me laughing during the interview because when he was doing that I thought he was joking about some things because of the easy relationship that we have, and I'm glad that we've extended an invitation, we'd love to have him back, and that he's seriously considering that."
Article continues below advertisement
In a pre-taped video story prior to Roberts addressing the controversy live, GMA reporter Andrea Canning setup what happened; she reported that after Brown's interview and performance, "...he grew angry and stormed backstage with his team. At one point, a cooler was thrown, and this window was broken in his dressing room. At that point, he left the building with his shirt off."
In her story, Canning did not specifically say that Brown was the one who broke the window.
As RadarOnline.com previously reported, Brown -- who was on GMA to promote his new album F.A.M.E. -- became incensed when Roberts asked him during a live interview before his performance about his current relationship with Rihanna whom he brutally beat two years ago.
EXCLUSIVE: Chris Brown Likely Won't Be Facing A Probation Violation After GMA Incident
Specifically, Roberts asked about the restraining order recently being relaxed against him, and if he and Rihanna had seen each other.
Article continues below advertisement
The testy exchange went as such:
Roberts: "What's going on now is that recently, the restraining order against you that Rihanna had issued has been relaxed ... have you all ... seen each other, been around each other at events?"
An uncomfortable Brown replied: "I mean not really, it's not really a big deal, that situation, I think I'm past that in my life, and I think today's the album day so that's what I'm focused on, so everyone go and get that album."
Brown, 21, then said his new album's title, F.A.M.E., stands for "forgiving all my enemies and fans of my everything," in particular those who stood by him in "everything that I went through."
Brown said that his enemies are "just anybody naysayers, haters, whatever the case may be."
Roberts said: "But you can understand how some people, that was very serious what you went through, and what happened ... even the judge though, afterwards, said you had served your time and community service and all that."
Article continues below advertisement
Chris Brown Asks Judge To Remove Restraining Order In Rihanna Beating Case
Brown testily replied: "I've been focused on this album ... definitely this album is what I want them to talk about, and not the kind of stuff that happened two years ago."
Roberts laughed and said: "Well, thank you for letting me go this way, because there had been a lot of people tweeting about it."
Immediately after he left the GMA studios, Brown took to his Twitter page to vent further.
"I'm so over people bringing this past s--- up!!! Yet we praise Charlie Sheen and other celebs for there b-------!" Brown tweeted right after the incident, but removed it just moments later.
"All my fans!!! This album is for you and only you!!! I'm so tired of everyone else!! Honestly!! I love team breezy!! Thank you to everyone who supports my music!!! Key Word ( music) !!! Love y'all," he tweeted.
He then retweeted a few positive messages from fans, including: "the media is just trying to bring you down... DONT LET THEM!!!!!" and "Chris today is OUR moment urs and ours #teambreezy! its all about ur music ur hard work!!! we're sooo proud of u and love u!"
Brown is booked to perform next week on ABC's Dancing with the Stars; there's no word yet if the performance will go on as scheduled.