VIDEO: Aretha Franklin Denies Undergoing Gastric Bypass Surgery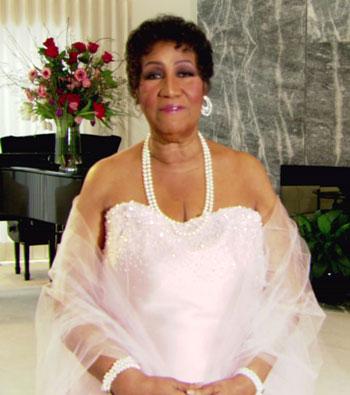 A slimmed-down Aretha Franklin, the legendary Queen of Soul, confirmed to Access Hollywood Monday that while she recently underwent a surgery, it was not a gastric bypass surgery as widely rumored.
"Aretha, really, so you have not had gastric bypass surgery?" the show's Shaun Robinson asked the Chain of Fools singer, who replied, "Definitely not…and would not. And would not."
"That's outstanding, because you know the rumors are out there," said Robinson. "Cancer. We heard that first … and then the gastric bypass surgery."
Article continues below advertisement
Said Franklin: "I heard that. I said, 'That is crazy. That is crazy.'"
Franklin did admit that her recent weight loss was a result of a surgical procedure, "but it definitely was not the bariatric or what is it gastric by ... yeah, I can't even tell you the correct name of it!"
Asked what kind of surgery she did have, the Freeway of Love singer, 68, said "it's really not necessary…to talk about one's personal medical on goings, though she did concede "the doctor did say to me, he said, 'Mrs. Franklin, you are going to feel better than you have felt maybe in 10 or 15 years…and the surgery that you had is going to add 15 years to your life.'"
Franklin said she hasn't addressed any of the recent rumors about her "because you really can't control what people have to say, and you just can't control what comes out of people's mouths, so it will take care of itself.
"I am my own best example and that's where I leave that," she said.
Watch the video on RadarOnline.com.
The full interview airs on Access Hollywood on Monday and Tuesday.
RELATED STORIES: