Stepfather Of Tiger Woods' New Girl Claims She Was Friends With Elin Before Dating Golfer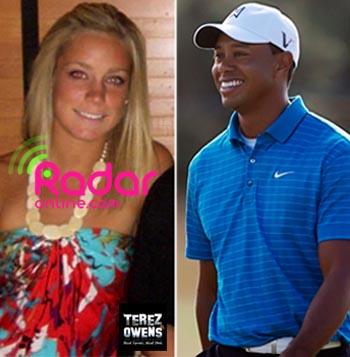 Tiger Wood's stunning new girlfriend Alyse Lahti Johnston's wealthy step-father has admitted that his daughter was friendly with Elin Nordegren BEFORE she started dating the golfing superstar, RadarOnline.com can reveal
Scottish exile Alastair Johnston is a boss at Tiger's sports agency IMG and actually lives next door to the cheating golf legend in Windermere, Florida, where Elin and her husband had their famous Thanksgiving meltdown before his numerous infidelities became public.
Article continues below advertisement
EXCLUSIVE PHOTO: Tiger Woods' New Girlfriend Mug Shot -- Arrested On Suspicion Of DUI
Now 22-year-old Elin 'look-a-like' Alyse has been spotted on the golfing superstar's yacht and the pair has been spending more and more time together recently.
Johnston told the Scottish Sun Newspaper: "Tiger Woods has been my next door neighbor for 15 years and Alyse has known him all her life.
"They are part of the same crowd that are the same age and go to the gym and out to dinner together.
"Do they spend time together? Yes."
Just how friendly Elin and Alyse were is not certain but the two women definitely knew each other and met at several social events attended by Alistair Johnston and Tiger Woods over the years.
RadarOnline.com broke the story that Woods' new love interest was busted for a suspected DUI after she was arrested last October 9, 2010 by the Orlando, Florida PD.
When charges were actually brought against her on December 10, Orange County, FL court records show that Alyse -- represented by a high profile Florida attorney -- was only charged with Reckless Driving, a first degree misdemeanor.
Article continues below advertisement
She pleaded no contest to the charge and adjudication was withheld pending her meeting several conditions.
It remains to be seen if the relationship between Woods and his new blonde takes off although sources have told RadarOnline.com that she isn't interested in anything serious.
A former classmate of Alyse's at Ohio University told our website: "She sent a BBM to a mutual friend of ours saying she didn't consider herself Tiger's girlfriend. They were just having a good time hooking up.
"She is a really nice girl, smart and super friendly. And she's also a bit of a wild child. She definitely likes to have fun."
Her mom is married to Johnston, 62, who is based in the States but travels to Scotland every month - Alyse's biological dad is said to be former St Louis Cardinals baseball pitcher Jeff Lahti.
Johnston, one of sport's most powerful men, helped engineer Woods' $60million (£37million) deal with Nike at the age of just 20.