Rapper Nate Dogg Dead At 41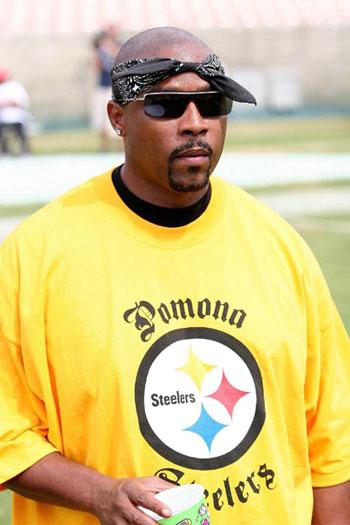 Rapper Nate Dogg has died at the age of 41, RadarOnline.com has learned.
Dogg -- whose real name is Nathaniel D. Hale -- passed away Tuesday of unknown causes, although in recent years, he had suffered two strokes.
He was paralyzed on one side of his body after a massive stroke in 2007 and in 2008, he suffered a second one.
His good friend and musical collaborator, fellow rapper Snoop Dogg, posted on his Twitter page: "RIP NATE DOGG" and later added:
Article continues below advertisement
"We lost a true legend n hip hop n rnb. One of my best friends n a brother to me since 1986 when I was a sophomore at poly high where we met. I love u buddy luv. U will always b wit me 4ever n a day u put the g n g funk u put the 1 n 213 n u put yo stamp on evrybdy u ever didit wit."
Snoop continued: "I miss u cuzz I am so sad but so happy I got to grow up wit u and I will c u again n heaven cuz u know d slogan." He added: "all doggs go to heaven yo homie n baby brotha bigg snoopdogg!!"
Rapper Ludacris said on Twitter: "There is a certain void in hip hop's heart that can never be filled. Glad we got to make history together."
Comedian Dave Chappelle also took to Twitter to talk about Hale's passing, writing: "Moment of silence for a hip-hop legend; RIP Nate Dogg. You will be missed, G Funk Era forever. #natedogg."
Hale -- who was born in Long Beach, California -- got his start as a member of his church choir and shot to popularity while recording with Snoop and Warren G in a Long Beach-area band called 213. He later recorded with Dr. Dre on The Chronic and appeared in Snoop's Doggystyle.
He released three solo albums: G-Funk Classics, Vol 1 & 2 in 1998, Music And Me in 2001 and a self-titled LP in 2004, and was nominated for four Grammys, most recently for Best Rap/Sung Collaboration in 2007 for the Eminem song Shake That.
RELATED STORIES:
No Buyers For Gary Coleman's House; Bank Reduces Price