PHOTOS: The Most Bangin' Bikini Busts On The Beach!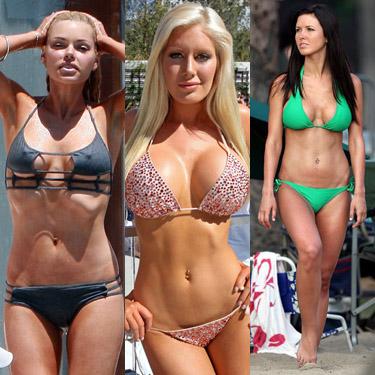 These sexy bikini babes never have to worry about sinking in the ocean because they are equipped with beyond impressive floating devices! Whether their assets are real or fake, RadarOnline.com is honoring the hottest-bodied Hollywood stars who steam up the shoreline with their bikini boobs. Click the next sentence to see bikini babes who have the most impressive bikini boobs on the beach.
Click Here To See The Most Banging Bikini Boobs On The Beach!
Article continues below advertisement
Ice-T's got it all from a Grammy Award to a hit television show, but his greatest trophy of all comes in the fantastic form of his curvaceous wife Coco! The boobiful blonde always plays up her oversized assets in the most scandalous bikinis ever. Though her tiny triangle tops and skimpy g-strings are almost arrest-worthy, she has some of the most impressive golden globes of all times.
When it comes to the Sports Illustrated Swimsuit Edition, Brooklyn Decker's sexy spreads get dog-eared by almost every man in the world. The beautiful blonde is sensationally stacked, and isn't shy about showing off her model bod in bikinis that barely cover her boobs. That Andy Roddick is one lucky guy!
Click Here To See Brooklyn Decker In Her Barely There Bikini
When it comes to Billboard chart-toppers, Katy Perry knows how to dominate in the sexiest way possible. If you think her boobiful red carpet looks are hot, then wait 'til you get a glimpse of the California Gurl in her skimpy bikini.
Article continues below advertisement
Click Here To See Katy Perry Stripped Down And Sexy
And we all know Kim Kardashian has some of the most covetable curves in Hollywood. The sexy reality show star brings booty and bust to the beach in ample amounts, achieving sex symbol status every time she strips down.
Click Here To See Kim Kardashian's Crazy Curves In A Bikini
It's no secret that Pamela Anderson, Heidi Montag and Kendra Wilkinson all tote some pretty large and in charge artificial assets. While the Baywatch babe has lots of experienced showing her set off on her hit television show and the Girl Next Door in the pages of Playboy, The Hills star recently flaunted her pair in the blockbuster film Just Go With It.