PHOTOS: Lindsay Channels Her Inner Native American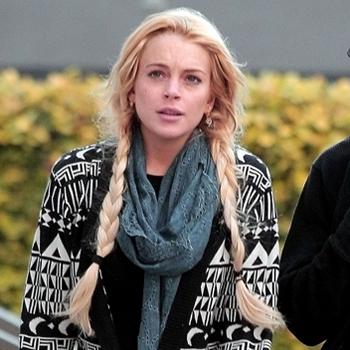 Lindsay Lohan -- or is she just "Lindsay" now? -- was out in her Venice, CA neighborhood Saturday and her outfit was definitely eye-catching. Of course, RadarOnline.com has the pictures!
Lindsay and a male friend dined at the trendy local watering hole, The Otheroom, and then strolled around the arty neighborhood.
Looking uncharacteristically serious and worried, Lohan appeared to be wearing little make-up.
Article continues below advertisement
She did, however, have her long blonde hair in braids, Pocahontas-style, and wore a below-the-knee Native American-inspired sweater.
As RadarOnline.com previously reported, Lindsay has turned down a plea deal that was hammered out between her attorney and the L.A. County D.A.'s office that would have put her behind bars on a grand theft charge.
She's now rolling the dice with a jury trial. First up is the preliminary hearing April 22, with Judge Stepahnie Sautner presiding.