PHOTOS: Chill Out With the Royal Wedding Fridge And Other Wacky Memorabilia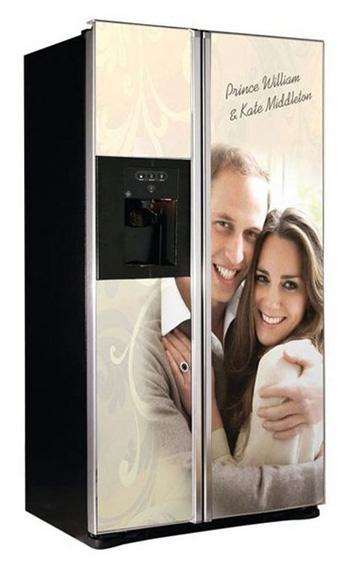 As the global frenzy over the royal wedding heats up, a British-based appliance company has released the coolest piece of memorabilia so far -- a William and Kate fridge!
Royal fans can now keep their celebratory bubbly and beer cold on April 29 in the royal fridge freezer, released by GDHA, a distributor for GE appliances in the U.K., which features the classic engagement photo of the happy couple taken by celebrity photographer Mario Testino.
Article continues below advertisement
"The royal wedding has captured the U.K.'s imagination and it was no surprise that a William and Kate commemorative fridge was a popular choice," said David Garden, Commercial Director for GDHA, reported WindsorKnot.Today.com.
"It certainly wipes the floor with your usual commemorative tea towels and mugs and is most definitely one of the most novel royal wedding products we have seen."
The 5'9" appliance is sure to give a regal edge to any kitchen and the manufacturers are even hoping that William's father and stepmother might install it at Buckingham Palace.
"Maybe even Prince Charles and Camilla will order one as a wedding gift for the couple," said Garden.
As the countdown to the big day nears, the royal wedding collectibles have been getting increasingly bizarre.
Here's a run down of he wackiest and tackiest:
Royal Wedding Cell Phone - Well-wishers can now call in congratulations to the happy couple (if they have the number!) on a commemorative Union Jack phone that has the initials 'W' and 'C' embossed on the back in gold, along with the wedding date. Manufacturer Alcatel-Lucent has handily loaded all the home screens with wallpaper of William and Kate and the ringtone is Mendelssohn's Wedding March.
Article continues below advertisement
Corgi Tea Towel - One of the cutest souvenirs features the Queen's favorite pet (no, not Prince Philip!) The Corgi tea towel is created by Oxford-based company ToDryFor, who say: "The key to a good marriage is making sure that you don't take each other for granted, which means sharing chores! We recommend one of you washes and one of you dries."
William and Kate Tea Bags - There's nothing more English than sipping a cup of tea, so what better homage to the royal couple than a nice cuppa? Created in Germany, the Kate and William tea bags are sold in the US by Pylones and feature quirky caricatures of the couple that are attached to bags of black tea and prop up on the back of the cup.
Royal Wedding Sick Bag - If the stress of the grand occasion becomes too much, the Royal Wedding Sick Bag is available to save your dodgy stomach. Available in blue or red and emblazoned with "Throne up - keep this handy on April 29th, 2011," the bag is designed by artist Lydia Leith. They are sure to become a classic collectible - if unused.
Crown Jewels Condoms - Created by a British company, the Crown Jewels: Condoms of Distinction offer royal protection to Wills and his fellow countrymen (and women) who want to "lie back and think of England." The condoms, which come in a fancy gold-embossed packet and heirloom collector's box that is fit for any King, even promise to improve the user's sex life, offering "a better class of lovemaking," because they are "regally ribbed" and "lavishly lubed."
Article continues below advertisement
Comic Book - William and Kate's wedding is also being immortalized in print. Fame: The Royals is a cartoon story book released by Bluewater Productions featuring the Prince and his bride-to-be, exploring their love affair and headline-worthy moments in the future King and Queen of England's public life.
Graphic Novel - A second graphic novel about the pair is set for publication in April and written by political satirist Rich Johnston. Kate & William: A Very Public Love Story is a kitschy change from his usual work as the comic book charts the lives of the duo from childhood all the way to their lavish Westminster Abbey wedding.
Harry and Kate Mug - The most hilarious piece of pottery related to the royal wedding has to be this commemorative mug created by Guandong Enterprises in China that celebrates the special union by mistakenly having a picture of William's brother, Harry, smiling cheekily at his future sister-in-law.
Kiss Me Kate Beer - Castle Rock Brewery in Nottingham invites fans to raise a pint of Kiss Me Kate beer to toast the happy couple on April 29. The brew is available at pubs and grocery stores around the U.K. and is described by it's creators as "elegant, tasteful and British to the core."
Article continues below advertisement
No More Waity, Katie Nail Polish - We're sure this sparkly lavender polish isn't really Kate's shade, but that hasn't stopped British cosmetics company butter LONDON from naming their No More Waity, Katie product after Middleton with a cheeky reference to the many years she waited for William to propose.
Kate Middleton Doll - Kate is battling with Barbie after being immortalized in plastic with the 'Portrait of a Princess' Kate Middleton doll from the Franklin Royal Mint . Dressed in a replica of the blue Issa dress that she wore for the engagement announcement and miniature jewels, the living doll bears an uncanny resemblance to it's flesh and blood inspiration.
Royal Plates - While most porcelain companies take a traditional approach to their tributes, KK Outlet pottery features cheeky comments about the royal pair. Shoppers can eat their dinner off plates screaming, "It Should Have Been Me," "Kate's Wedding List," or "Thanks 4 the Free Day Off."
F*** The Royal Wedding Tees - For those who are already sick and tired of everything royal wedding related, artist Steven Guy has designed "F**k The Royal Wedding" T-shirts. "I'm sure the happy couple are nice and I wish them well (with envy) but the monarchy is nothing more than a glorified tourist attraction for mother England," he says on his sales site.