Katy Perry's Religious Mother Says She's Destined To Be Faith Healer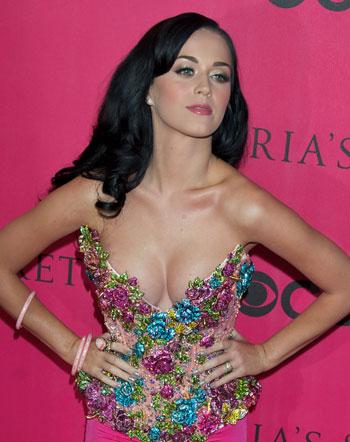 Katy Perry's uber religious mother thinks the I Kissed A Girl singer is destined to one day show the way to those in the evangelical church, becoming a worship leader, RadarOnline.com has learned.
Perry's mother, Mary Perry Hudson, has been shopping a book proposal in which she states that her daughter is to become a "Kathryn Kuhlman type of healer."
"I recognized the psalmist gift in her performance. Yet she sang out, 'I kissed a girl, and I liked it,' while thousands joined her," The New York Post's Page Six reported after obtaining Hudson's full book proposal.
Article continues below advertisement
"One part of my heart soared . . . the other part broke for the thousands of hungry souls being fed something that didn't nourish their spirit, but fed their flesh."
Hudson is an evangelical preacher who not only has a problem with what Perry sings about, but what she's wearing while she performs.
"Katy stepped out from behind the changing doors in a tiny risqué costume. No mother wants to see the top of her daughter's boobs," Hudson said in her proposal about a meeting backstage at a concert with her daughter.
"My first instinct was to order her back behind those doors and demand she put something else on . . . However, I had no problem letting my eyebrows say what I wouldn't allow my mouth to utter."
Hudson even goes so far as to suggest that Perry's new husband, Russell Brand, may be the influence behind her daughter's racy look, calling him her "foul-mouthed fiancé."
"Oh, dear God, how can I save her from all this? The money, the fame, the network, the people surrounding her, how can I compete?" Hudson wrote.
Article continues below advertisement
As RadarOnline.com previously reported, Billy Ray Cyrus also spoke out publicly at one point blaming the fame of his daughter, Miley, for breaking up their family - and Hudson compares herself to those "whose children have risen to fame and live contrary to their parents' beliefs."
But the 26-year-old's mother is convinced her book will be a best-seller, saying, "Fans of Katy Perry and Russell Brand will flock to the bookstores to snatch up a copy . . . either through curiosity or obsession, to get a glimpse of their stars through Mary's eyes."