EXCLUSIVE INTERVIEW: Lady Gaga Talks Drugs & Rejection In New Book, Hints At Past 'Traumatic Events' Says Author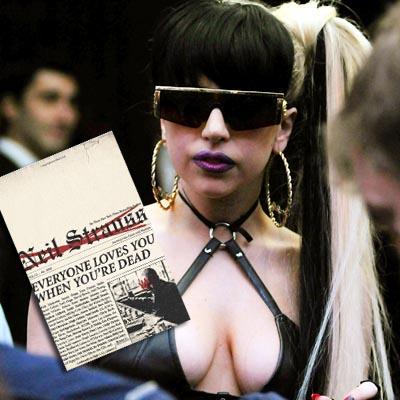 Lady Gaga has offered some insight into what has shaped her into becoming the artist she is today, hinting at past "traumatic events", but refusing to elaborate further for fear her experiences would be "twisted and turned" by the media.
The controversial singer opened up to rock journalist Neil Strauss who has included a snippet of their conversation in his new book Everyone Loves You When You Are Dead, and RadarOnline.com can bring you an exclusive interview with the author.
Article continues below advertisement
"I asked her if she'd been through a traumatic experience when she was younger and she said yes, that it was when she was in New York and it was so terrible that she'd blocked it out," Strauss told RadarOnline.com.
"She said it was so horrible that she didn't want it in her younger fans' heads. I think she felt that if she opened up about herself, then it would define her and that's all anyone would ask about."
In the book the 24-year-old singer tells Strauss: "I didn't have a bad childhood. All of the things I went through were on my own quest for an artistic journey to f**k myself up like Warhol and Bowie and Mick, and just go for it.
"All of the trauma I caused to myself. Or it was caused by people that I met when being outrageous and irresponsible," she explained.
The outspoken star went on to admit how the drug abuse of her early days still haunts her.
Article continues below advertisement
"Sometimes it freaks me out -- or I should say it petrifies me -- when I think about laying in my apartment (in New York) with bed bugs and roaches on the floor and mirrors with cocaine everywhere, and no will or interest in doing anything but making music and getting high," she said.
"I've had such obstacles with drugs and rejection and people not believing in me. It's been a very long and continuous road that I love, but it's hard to just chalk it up to myself. I have to believe there's something greater than myself."
And, while Gaga was clearly a constant on the Manhattan party scene, Strauss is uncertain as to whether she could be defined as a drug addict.
"She was a young artistic woman in New York in a performance artist party scene and of course she did coke," he told RadarOnline.com. "I think there's a line between doing coke as a recreation party thing and doing coke on your own.
"Who knows if she was buying it on her own or using it a lot but she was able to stop herself without going to rehab or having treatment. Whether she was an addict or a very committed causal user is not clear."
Article continues below advertisement
The best-selling author also believes that the wacky Poker Face singer hides behind her crazy costumes as a way to keep her personal life out of the headlines.
"I never asked her about her clothes, they're just a distraction from the person. She's bent on exhibitionism," Strauss explained.
"She wants to be untouchable, unreachable, inhuman... her whole motivation is, 'I'm going to be your modern day goddess.'"