Kate Plus 8 Returning To TLC Next Month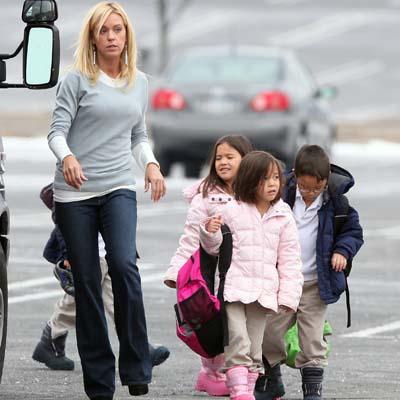 The new season of Kate Plus 8, the reality show featuring Kate Gosselin and her eight children, premieres next month, TLC announced on Wednesday, and RadarOnline.com has all the info for you.
Gosselin hyped her upcoming adventures on 98.5 WTFM in Tennessee, where she was in town for a charity food drive on Wednesday.
The first episode will chronicle a 21-hour trip Kate took with the kids to Australia, where they celebrated New Year's Eve. The episode also features Kate swimming in the ocean, learning Aussie culture from the Aboriginal community and even coming face-to-face with sharks.
Article continues below advertisement
The 35-year-old mother and her children filmed the scenes during a late December/early January trip, despite the protests of her ex-husband Jon, who unsuccessfully tried to get a Pennsylvania court to prevent the trip from happening. A source close to the reality TV family told us the trip was yet "another slap in the face for Jon, because he did not want the kids to go to Australia."
The new season premieres April 4 at 10/9c on TLC.