Ivanka Trump's Alleged Stalker Appears In New York Court, Denied Bail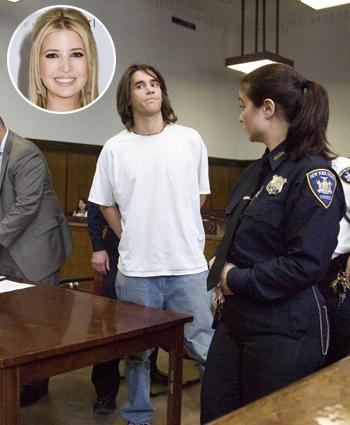 Ivanka Trump's twisted alleged stalker Justin Massler was ordered held without bail on a felony in a New York Court Tuesday, RadarOnline.com can reveal.
During his appearance at Manhattan Superior Court, Massler bizarrely gave his address as 'a volcano in Hawaii' while admitting that he cannot stop bothering Donald Trump's pregnant daughter.
But now he faces criminal contempt charges and up to four years in prison for ignoring court orders not to contact her or her family.
Article continues below advertisement
Assistant District Attorney Lucrece Francois told Justice Lewis Bart Stone that the alleged stalker 'threatened to track the victim overseas to escape the court's jurisdiction'.
She added Massler told officials he would never surrender voluntarily but 'would go down in a hail of gunfire.'
Massler, who is from Nevada, missed his court date last month and has no ties to New York where Ivanka Trump lives.
"He gives his address as a volcano in Hawaii," Francois said, asking that bail be set at $400,000.
Massler was arrested in February in Hollywood, after a warrant was issued for his arrest when he missed two court dates in Manhattan related to his alleged stalking case.
As RadarOnline.com first reported, Massler was extradited from Los Angeles to New York on Monday for his court date.
Massler has stated in previous court papers of Trump: "I should stop bothering her but I like her."
Article continues below advertisement
And on a recent YouTube rant, he claimed that aliens had made him stalk her and husband Jared Kushner.
"It's really aliens who are responsible," he said on tape. "It's like if a guy had a gun to the back of your head and said you have to write a Twitter message to Ivanka Trump. Would I be guilty of a crime? Not really."
But, he continued, "They don't seem to acknowledge the alien defense in court."
Defense lawyer George Vomvolakis claimed his client thinks the alleged stalking is 'a joke.'
Vomvolakis asked that Massler be given a psychiatric exam to determine if he understands the charges against him.
He said: "I don't know if it's attention he needs or just likes to lash out - a combination of the two or something more mental, but we'll find -out."
The lawyer said he may request that the case be transferred to Manhattan's new mental health court while the judge ordered new orders of protection in the case for the Trump family.