EXCLUSIVE: Fugitive Says Aliens Made Him Stalk Donald Trump's Daughter Ivanka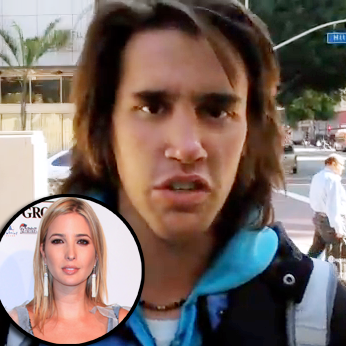 The Reno fugitive accused of stalking Donald Trump's daughter Ivanka has released a bizarre video onto YouTube in which he claims aliens made him harass the New York-based heiress.
Authorities in New York last week issued an arrest warrant for Justin Massler, 28, after he no-showed a court date connected to the matter.
In the YouTube video -- posted under an account called FugitiveStalker -- Massler claims he was persuaded by forces from outer space to shadow The Apprentice beauty.
Article continues below advertisement
"Basically, aliens made me stalk her and I'm not lying. Like, they always call you crazy if you do that," Massler said.
"I really feel I'm innocent. If I'm being mind-controlled by aliens, it's basically a coercion issue."
Massler said while doing work in Point Pleasant, West Virginia, as a cameraman on a 2005 documentary called Eyes of the Mothman, he came under the spell of a curse known to hover over those who inquire about the area's black magic mystique.
"Going to a psych ward is not going to help because psychotropic drugs don't work on alien mind control," he added. "They only work if you have a mental illness."