George Lopez: I Apologize To Kirstie Alley For Pig Joke; Kirstie Tweets: 'U Are Forgiven..'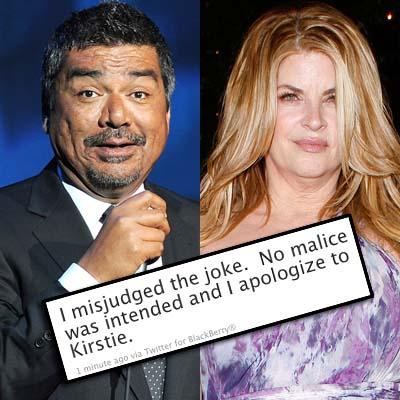 Article continues below advertisement
On Tuesday's Lopez Tonight, Lopez said, "She did a nice job," after showing a clip of Kirstie dancing with pro partner Maksim Chmerkovskiy. "Her little hooves tapping away."
He then did a play on the classic nursery rhyme, This Little Piggy Goes to Market, saying, "Before the show she went to the market. And then she had roast beef. And this is her going all the way home," before playing a clip of a pig squealing "wheeeee" while riding in a car.
Alley struck back at Lopez on Thursday after Twitter user WestCoastGal88 wrote to Alley, "If you read my stream -- I just called George Lopez a PIG :)"
Kirstie Alley Calls George Lopez 'A Drunk Pig' In Response To Mean Joke
Alley quickly responded: "lol...a drunk pig...hehe," and later tweeted, "Don't worry about George's comments... just remember what happens to the big bad, drunk woolf...falls in a boiling pot of vodka. Piggy laughs."
Article continues below advertisement
Lopez made weight-related cracks during Bristol Palin's run on the ABC hit last autumn, during an interview with one of the show's judges, Carrie Ann Inaba. He asked Inaba how Bristol had managed to gain 20 pounds since the beginning of the season.
VIDEO: George Lopez Makes 'Pig Joke' At Kirstie Alley's Expense
"I don't know, we don't weigh them in," Inaba said, to which Lopez replied, "I mean what are they waxing the floor there with? Corn oil?"