Kirstie Alley Calls George Lopez 'A Drunk Pig' In Response To Mean Joke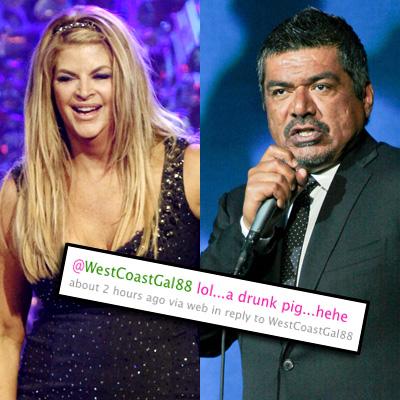 Kirstie Alley struck back at late night host George Lopez on Twitter Thursday, RadarOnline.com has learned, after the comic likened the actress to a pig in a bit on his show.
Early Thursday, Twitter user WestCoastGal88 wrote to Alley, "If you read my stream -- I just called George Lopez a PIG :)"
Alley quickly responded: "lol...a drunk pig...hehe."
As RadarOnline.com previously reported, Lopez made Alley the butt of a weight joke on Tuesday's Lopez Tonight.
Article continues below advertisement
"She did a nice job," George joked after showing a clip of Kirstie dancing with pro partner Maksim Chmerkovskiy. "Her little hooves tapping away."
He then did a play on the classic nursery rhyme, This Little Piggy Goes to Market, saying, "Before the show she went to the market. And then she had roast beef. And this is her going all the way home," before playing a clip of a pig squealing "wheeeee" while riding in a car.
The Cheers star has been criticized for her weight gain in recent years. She wrote on her Twitter page about her dramatic weight loss this week, adding she's hoping to lose a lot more during the competition.
"Had lost 60 lbs before DWTS... Haven't weighed in three weeks but sure I've lost over 10 more…" she tweeted Tuesday.
Lopez made similar remarks during Bristol Palin's run on the ABC hit last autumn, during an interview with one of the show's judges, Carrie Ann Inaba. He asked Inaba how Bristol had managed to gain 20 pounds since the beginning of the season.